August 2017 Newsletter
New Blog Post – Your Daily Courage Encouragement
Yellow is the level of courage. In regards to a new student it takes courage to face many challenges of learning material, protocols, student names, disciplines and even push ups. Some quit in the face of these rigors while others muster courage to take on the difficulties, hard work and fear of the unknown and possible failure. What do they find within themselves to master their fears and keep going? Read more on Sigung Steve's blog…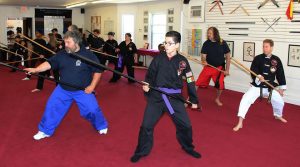 Sihing Teacher Seminars
All Green Belts and Higher are invited to our special "Sihing –Assistant Teacher" training seminar. The cost is only $10 and includes pizza dinner. It is on Friday September 8 from 5 p.m. to 8 p.m. Students will do hands on training workshops on how to be a better teach or assist. This is for all ages 8+ who assist in classes. Adults and full teachers will greatly benefit from this seminar and will be able to employ assisting students much more effectively. Teacher – Students will learn five primary roles of support teacher – "the Drill Sergeant," "the Praisenhauser," "the Popcorn Machine," "the Gopher," and the "Mini-Me Master."
Open Doors Milwaukee
Our building at 3429 W. Greenfield will be part of the Open Doors Milwaukee program on Sunday September 25, 2017. Our facility will be open for short tours because of its historical significance and unique design. Originally the outside Milwaukee corner grocery store in 1905, see photos and a book written about life in this building back then as well as some of the history of changes over the century, including its most recent renovation of the office addition and tai chi garden. Open to all the public from Noon til 5 pm. this day!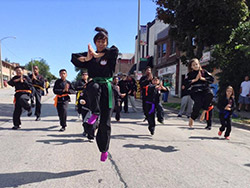 New Shirts!
A special edition Crimson Red shirt with yellow-gold inking is now available!
Testing Block 1
Friday August 25 at 5 p.m. Awards Ceremony for all to watch will be at 6:30 p.m. Intermediate-advanced testing will be earlier on that day, check your test invitation. Students be sure to turn in your filled out manual earlier in that week.
No Classes Labor Day Weekend
We will be closed Saturday Sept. 2 and Monday Sept. 4. Enjoy your holidays!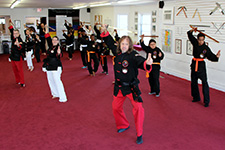 Pai–Chia Fall Seminar
Sifu Bill Luciano along with David L. Smith (Senior Teacher of the Pai Family Art) will be presenting Pai Lum seminars in New York October 14, 2017. See Sigung for more details if interested.
Congratulations to Sifu Doug
Sifu Doug Bowman recently completed his testing and became a 5th Dan (Higher Level) with the ATA. He is also in the process of opening a new White Lotus Association school soon in the Milwaukee vicinity! Congratulations on both endeavors!
Milwaukee Tournament Participants
Congratulations to all who participated in the Dedication Tournament in Milwaukee July 29 (next month we will announce results).
Block 1 Focus
Week 1 (August 1–5): Weapons
Week 2 (August 7-12): Forms & Info
Week 3 (August 14-19): Sparring & Fist Sets
Week 4 (August 21-22): Review & Testing
Special Dates
Business Meeting – Wednesday August 16 at 8:30 p.m.
Test Block 1 – Friday August 25 at 5 pm. Awards 6:30 pm
Mexican Fiesta Demo – Saturday August 26, 1 – 2 p.m.
No Classes Labor Day Weekend Sat. & Monday (Sept 2 & 4)
Special Sihing Teacher Seminar – Friday September 8, 5-8 p.m.
International Food & Walk Demo – Saturday Sept. 23, 12 p.m.
Open Doors Milwaukee – Sunday September 24, 12-5 p.m.
Monthly Fees
Pay before the 5th of the month to avoid late fees. Credit/Debit cards are accepted. Receive up to 3 months free by purchasing 3, 6, or 12 month packages!
July 28, 2017 |
News
|
Comments Off

on August 2017 Newsletter