December 2017 Newsletter
New Blog Post – Grasshopper, Be Like A Tree
The sixth color code is Green: "Persistence." Like a green plant or tree, one does not visually see them grow from day to day, but over weeks, months and years their continuous, persistent effort to reach the sky is evident. Read more on Sigung Steve's blog…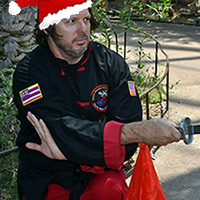 New Year – New You – New Specials
Those of you already enjoying the many benefits of training in Pai Lum at Rising Dragon (better health, safety and protection, self discipline, fun activities and skills, new friends and family, etc.) consider giving this gift of training to family and friends for the holidays or for the new year. It is something they will very grateful for!
Here are some new year specials to take advantage of only during the month of December:
New Student Special – Buy 3 months and receive a free uniform!
Current Student Special – Buy any additional 3 months to your current plan and receive 3 months of free additional training in the other two arts kung fu and/or kenpo / tai chi / kickboxing) at the same time. For example if you are in kung fu, you will receive tai chi and kickboxing classes for free for 3 months).
Upcoming Teaching Seminars
For all our Sifus and Sihing and upcoming Sihings (Green Belts) is our annual teaching seminar on Friday January 19 from 5-10 p.m. How to Lead Teach and Be a Support Teacher Saturday January 20 from 9-12 (Lab Workshop during Classes), and 12-2 (Lunch and How to Open/Manage a School).
Cost $69 includes the seminars, a 100 page teaching manual, dinner and lunch. The cost without the teaching manual (required for Sifus unless they already have one) is $30 and includes the seminars, dinner and lunch. Please sign up with Sigung in his office and reserve a copy of the teacher manual. Students of lower ranks interested in learning the art of teaching are also welcome to this seminar!
Testing Block 3
Test for Block 3 will be on Friday December 29 at 5 p.m. Awards Ceremony for all to watch will be at 6:30 Intermediate-advanced testing will be earlier on that day, check your test invitation. Students be sure to turn in your filled out manual earlier in the week and check in with payment.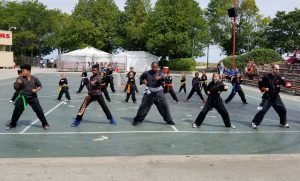 No Classes Christmas Break / New Years Day
There are no classes on Saturday December 23, Monday December 25th and Monday January 1 for these holiday celebrations. Please enjoy more family or friend time. Also Sigung Steve and Sifu Melodie wish you a Merry Christmas! And if you have no place to celebrate let us know – there is a place at our table or one of our kung
fu families' tables for you!
Block 3 Focus
Week 1 (December 4-9): Forms
Week 2 (December 11-16): Self Defense / Sparring
Week 3 (December 18-23): Weapons
Week 4 (December 25-30): Review & Test
Special Dates
Business Meeting – Wednesday December 13 8:30 pm
Christmas Break (No Classes) – Saturday & Monday December 23 & 25
Test Block 3 – Friday December 29 5 p.m. Awards 6:30 pm
New Year's Day (No Classes) Monday January 1, 2018
Sifu/Sihing Teacher Seminars Friday & Saturday, January 9 & 10th
Monthly Fees
Pay before the 5th of the month to avoid late fees. Credit/Debit cards are accepted. Receive up to 3 months free by purchasing 3, 6, or 12 month packages!
December 2, 2017 |
News
|
Comments Off

on December 2017 Newsletter