January 2018 Newsletter
New Blog Post – I Am Yawn-Worthy; See Me Sigh
Did you wake up this morning and say to yourself: "Today I'm going to be mediocre!"? Some may not say those words, but that is there attitude: "Bah! Another day…whatever I do today I'm going to do it half-hearted. I'll pick at my food. I'll lounge around the house. I'll only clean half the coffee table; I'll show up to school late, I'll answer only two of five phone calls. Maybe I'll cut a conversation with a friend short. I'll skip to the end of a movie/book to see the ending. I'm going to do a yawn-worthy job at everything. This is the day I plan – mediocre!" Read more on Sigung Steve's blog…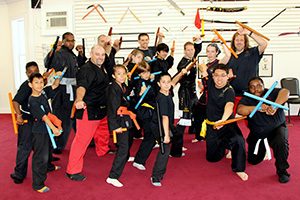 Teaching Seminar
Attention all Sifus and Sihings and Want-To Be Sihings/Sifus: our annual teaching seminar on Friday January 19 from 5-10 p.m. How to Lead Teach and Be a Support Teacher Saturday January 20 from 9-12 (Lab Workshop during Classes) Saturday January 20 from 12-2 (Lunch and How to Open/Manage a School).
Cost $69 includes the seminars, a 100 page teaching manual, dinner and lunch. The cost without the teaching manual (required for Sifus unless they already have) is $30 and includes the seminars, dinner and lunch. Please sign up with Sigung in his office and reserve a copy of the teacher manual. Students of lower ranks interested in learning the art of teaching are also welcome to this seminar!
Testing Block 3
A make-up test for those who missed the earlier Block 3 will be on Friday January 12th at 5 p.m. An Awards Ceremony for all to watch will be at 6:30 Intermediate-Advanced testing will be earlier on that day, check your test invitation. Students turn in your student manual earlier this week and pay.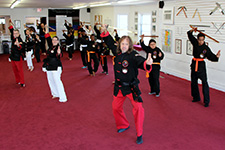 The WEEK of the WARRIOR
Start preparing now for an intensive week of Shaolin Training at our school — Over 30 hours of training, 20+ seminars, visiting Pai Lum masters and teacher from across the nation, dozens of hours of new training material in weapons, forms, self defense, tai chi and much more. Mark these dates now: March 12-17, 2018 as the week of warrior training like you've never seen before. There will be 3 seminars every evening Monday-Friday and more on Saturday! Sign-up at the school or call 414-383-7727. More detailed information to soon follow!!
Bring a Friend Month!
Students bring another family member or a friend in for 2 free classes – if they sign up for classes you get a $25 gift certificate for the pro-shop! Get four friends to sign up – earn $100!
Snow Days
Rising Dragon will be open for classes on cold, snowy days! We only close if Milwaukee Public Schools (MPS) also closes due to inclement weather. This is Wisconsin – it's cold! But warm yourself up with some hard, fun training with your kung fu family!
Block 1 Focus
Week 1 (January 1-6): Basics
Week 2 (January 8-13): Forms
Week 3 (January 15-20): Fist Sets
Week 4 (January 22-27): Sparring
Special Dates
New Year's Day (No Classes) – Monday January 1, 2018
Test Block 3 – Friday January 12 5 p.m. Awards 6:30 pm
Sifu/Sihing Teacher Seminars – Friday & Saturday, January 19 & 20
Warrior Week – March 12-27, 2018
Monthly Fees
Pay before the 5th of the month to avoid late fees. Credit/Debit cards are accepted. Receive up to 3 months free by purchasing 3, 6, or 12 month packages!
January 3, 2018 |
News
|
Comments Off

on January 2018 Newsletter