January & February 2019 Newsletter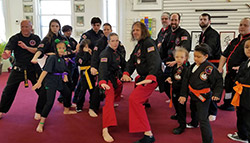 Have a Kickin' New Year with a Free Uniform!
Have you been pondering a new you for the new year – healthier, new skills, more confidence and self discipline? We have a special for all joining new students – a free uniform ($60 value) with any signup of 1, 3, 6 or 12 months of training. If you already have a child or family member training in classes you will also save annual $120 off normal training prices!
No Classes December 31 and January 1
There will be no classes held at Rising Dragon for New Year's Eve (Monday, December 31) and on New Year's Day (Tuesday, January 1). Enjoy the holidays and have a great new year's!
Teacher Impact Seminar
Become a master teacher, improve your classroom management skills, equip yourself with training games, exercises, and teaching roles. All students green belt and higher are strongly encouraged to discover your hidden teaching talents and impact student lives! The annual White Lotus Association Teacher Seminar is scheduled for Thursday, Jan 10th from 7:30- 10:00 pm and Friday, Jan 11 from 5 -10 pm.
January & March Testing
Friday January 18 will be an available test over Block 3 material at 5 p.m. Awards Ceremony at 6:30 p.m. Saturday March 2 at 10 a.m. (Block 1) Awards Ceremony 11:30 a.m. Higher rank testing will start earlier!
Warriors Start on Time
For 2019 you need to be at class on time! Arrive 5-10 before class. If you late to class you will stand at attention for 10 minutes before joining class. Anyone later than 10 minutes to class will not participate but sit and watch.
Special Weekly Bonus Activity
Each week of January and February there will be a special fun activity for every class that week:
January 7-12: Break It! Learn how to break wood and bricks –and practice breaking boards
January 14-19: Beat It! Enjoy two-person games and conditioning exercises with partner(s).
January 21-26: Bonk It! Enjoy special games of skill and team training exercises
Jan 28 – Feb 2: Birdie It! Play our famous birdie ball game for fun and rewards
February 4-9: Pop It! Jump to with lots of weapon and body pop ups
February 11-16: Punch It! Enjoy two-person games and conditioning exercises with partner(s)
February 18-23: Punt It! Enjoy special games of skill and team training exercises
Feb 25 – Mar 2: Party It! Treats, rewards and fun at every class!
February Business Meeting
Wednesday, February 13 at 8 p.m.
Payments
Save up to $250 a year by making 3, 6 or 12 payments instead of monthly. That amounts paying for 9 months and getting 3 free months! Also a reminder that payments are due on the 1st of the month. Late fees are accessed after the 5th and 10th of a month that fees are due. Thank you for the support of our school and family!
Parking
The road construction is over as of the beginning of 2019, yayyy! You may park on either side of the building now as well as park in the lot across the street.
Winter Closings?
Our general rule is that if Milwaukee Public Schools is closed due to inclement weather, so are we. If in doubt, give us a call on our school line 414 383 7727
Social Media Maniac? We've got you covered: www.risingdragonmartialarts.com,
Facebook –https://www.facebook.com/risingdragon Twitter – https://twitter.com/risingkungfu
December 29, 2018 |
News
|
Comments Off

on January & February 2019 Newsletter