July 2017 Newsletter
New Blog Post – Sometimes I Need to Be a White Belt
You have to give a lot of credit to our White Belts. They have had the vision and determination to try something new in life – something challenging both physically and mentally. It also puts their spirits to the test to learn a new self-discipline – all those bows and protocols, standing at attention, breaking when they enter the kwoon (school), breaking to teachers, showing energy. Read more on Sigung Steve's blog…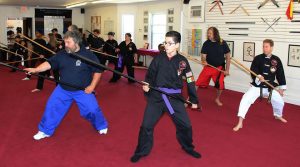 Sihing Teacher Seminars
All Green Belts and Higher are invited to our special "Sihing –Assistant Teacher" training seminar. The cost is only $10 and includes pizza dinner. It is on Friday August 11 from 5 p.m. to 8 p.m. Students will do hands on training workshops on how to be a better teacher or assistant. This is for all ages 8+ who assist in classes. Adults and full teachers will greatly benefit from this seminar and will be able to employ assisting students much more effectively. Teacher – Students will learn five primary roles of support teacher – "the Drill Sergeant," "the Praisenhauser," "the Popcorn Machine," "the Gopher," and the "Mini-Me Master."
Breaking Week!
A special fun week of training will be July 3 – July 8 as we learn how to break wood and bricks in preparation of doing demonstrations later in the Summer. Also there will be a lot of training games and exercises this week! Don't miss this fun week!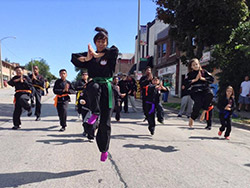 Testing Block 3
The "make-up test" for those who could not attend the earlier test will be on Friday July 14 at 5 p.m. Intermediate-advanced testing will be earlier on that day, check your test invitation. Students need full dress uniform, school patch, white lotus membership patch and training manual.
No Classes Tuesday July 4
There will be no classes in observance of Independence Day!
Free Water Bottles for Parents
Parents are welcome when they come to our school to grab a free cold water bottle out of our refrigerator. All we ask is that you first check in on your face book page on your phone that you are at Rising Dragon Martial Arts for your child or for yourself.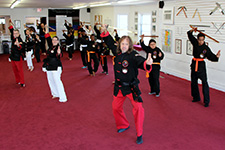 Congratulations to Sifu Doug
Sifu Doug Bowman recently competed in the ATA Tae Kwon Do World Competitions with thousands of competitors. In the tournament of champions in creative form 2nd place and 2nd place in extreme form for world champion 4th place in creative and extreme weapons. Sifu Doug also completed his testing for 5 Dan (Higher Level) with the ATA. These are great martial art feats – be sure to congratulate him when you see him next at classes!
Block 1 Focus
Week 1 (June 25 – July 1): Basics
Week 2 (July 3 – 8): Breaking & Drills
Week 3 (July 10 – 15): Forms
Week 4 (July 17 – 22): Fist Sets
Week 5 (July 24 – 29): Sparring & Info
Special Dates
No Classes Independence Day, Tuesday July 4
Makeup Test Block 3 Friday July 15 at 5 pm. Awards 6:30 pm
Business Meeting Wednesday July 19 at 8:30 p.m.
Special Sihing Teacher Seminar Friday August 11 at 5 p.m.
Monthly Fees
Pay before the 5th of the month to avoid late fees. Credit/Debit cards are accepted. Receive up to 3 months free by purchasing 3, 6, or 12 month packages!
July 2, 2017 |
News
|
Comments Off

on July 2017 Newsletter