July 2018 Newsletter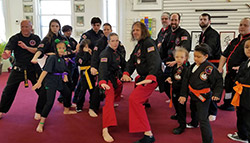 New Blog Post – Becoming a Master of What's Important
Mastery is the key word for Black level 4. It is the ranking we often bestow the title Sigung "Master." The test, as Sigung Melodie just demonstrated, takes 6 days of about 12 hours each day to perform and display all the material, knowledge and skills learned. It is rare to achieve sifu, "teacher" level in our rigorous system of Pai Lum; it is very rare to achieve master status. One must be dedicated to a path of decades rather than years. Read more on Sigung Steve's blog…
No Classes Independence Day
There are no classes held Wednesday July 4th in honor and celebration of USA independence day. Happy 4th!
White Lotus Association Tournament (Past and Upcoming)
Congratulations to all of the students who competed in our White Lotus Tournament at Be Martial Arts School – we had a number of champions that day – but all students showed heart, had fun, made new acquaintances and friends! It was a great day.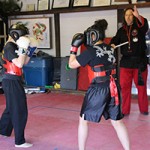 Next we have a mini-tournament here at Rising Dragon. This will be a combination 1 event tournament (Self-Defense) and seminar (Gun Take-Aways). Total cost for White Lotus Members $30 includes opportunity to earn trophies (only two first places will be given for each division) and to have a fun seminar in which we will test the self-defense skills of the gun take-aways with a water gun!
10:30 a.m. Self Defense Tournament
11:30 a.m. Gun Take-Away Seminar
1:00 p.m. Kickboxing Matches
White Lotus Members total cost is $30 includes competition, seminar and spectating the kickboxing.
Non members cost is $40
The tournament is a partnered competition in which students will choreograph a fight (judged on speed, execution, creativity and good technique and energy). These could be combined fist sets, forms, basics, weapon defenses, and created material based off of learning. Students will compete by age 4-7, 8-11, 12-15, and Adult. There will be beginner, intermediate and advanced divisions. Beginners should have a minimum of 10 motions, Intermediates 20 and Advanced at least 30 motions between the partners.
The Seminar will teach all about dealing with defense against a gun. Practical application will include defending against a water gun!
The Kickboxing matches are those held over (delayed) from the last tournament. They will be exciting matches to watch right after the seminar. Free spectating is included with your purchase.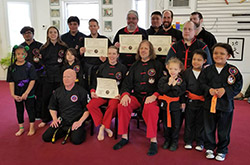 Testing Block 3
Testing will be on Friday July 13th at 5 p.m. An Awards Ceremony for all to watch will be at 6.
New Training Video Access
Rising Dragon is now posting all of its training DVDs on an internet site – so when you purchase a 'Block of Training' for Kung Fu and Kenpo, Tai Chi, Kickboxing you will have access anywhere, anytime with any mobile device or computer! Costs for video access ranges from $30-$60. Those who have previously bought DVDs should see Sigung and he will hook you up for video access to those.
Block 3 Focus
Week 1 (July 2- 7): Basics and Information
Week 2 (July 9-14): Forms
Week 3 (July 16-21): Fist Sets
Week 4 (July 23-28): Sparring
Special Dates
No Classes – Wednesday, July 4 for Independence Day
Block 3 Testing – Friday, July 13 at 5 pm
Business Meeting – Wednesday, July 25 at 8:00 pm
Self-Defense Tournament – Saturday August 11 at 10:30 am
Gun Take-Away Seminar – Saturday August 11 at 11:30 am
Kickboxing Tournament Matches – Saturday August 11 at 1:00 pm
Monthly Fees
Pay before the 5th of the month to avoid late fees. Credit/Debit cards are accepted. Receive up to 3 months free by purchasing 3, 6, or 12 month packages!
July 2, 2018 |
News
|
Comments Off

on July 2018 Newsletter