June 2018 Newsletter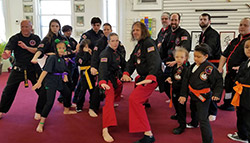 Creating a Warrior of the Soul
Creativity is the key word for Black III. All the tools, skills, strategies of the Pai Lum marital arts are now honed internally and externally. Now it is time to experiment, to merge movements and ideas that may have not been thought of before. It is time to make the system "yours." Read more on Sigung Steve's blog…
White Lotus Association TOURNAMENT
Saturday June 16, 8 a.m. to noon
Tournament Location: Be Martial Arts, 11122B N. Cedarburg Rd, Mequon
We will be partnering with Be Martial Arts and White Cobra Martial Arts for our state tournament this year. Other schools will be welcome as well to compete and have a great day of fun and fellowship! Experience camaraderie among fellow students and schools, test out your forms, defense, weapons, sparring and skills. This is just around the corner – so start your training for competition now!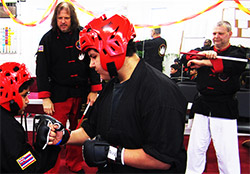 Competition includes:
Kung Fu, Kenpo & Tae Kwon Do Forms / Tai Chi & Chi Kung Forms / Weapon Forms
Point Fighting / Chinese Wrestling / Push Hands / Full Contact Fighting
Crane Stance / Horse Stance
Special Cost: Any 2 events for $40 / Any 4 events for $60 / additional events $5 each
$5 off if application turned in by May 31 (applications available at the three schools)
Spectators: First parent/guardian/friend free. $3 for 4 and older or $10 for 4 tickets.
Schedule:
8 a.m. – Masters Demo, learn White Lotus bow, Tournament Rules
8:30 a.m. – All ranks Forms & Weapons
10 a.m. – All ranks Sparring
11: 30 a.m – All ranks Self-Defense , Crane, Full Contact
Sparring Equipment Special
1. All students will need their own sparring gear to participate in sparring classes starting this month for safety and hygiene. We are phasing out our "gently used" and "not-so-gently used equipment. If you would like to purchase the used helmets and gloves you may do while supply lasts: Sparring Gloves $10. Helmets $15.
2. Otherwise please visit see the Pro Shop for sparring gear. We have helmets in stock in Black, Silver or Red – and other colors are available through the catalog. Cost of new sparring gloves: $29 Cost of new helmets: $35
3. Personal weapons kept at the school must have your name identity marked clearly on them.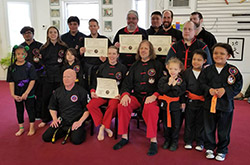 Special Training Deal
Purchase 3 months or more and receive a free uniform. Current students can get store credit. Offer expires June 23!
Testing Block 3
Testing will be on Friday June 29 at 5 p.m. An Awards Ceremony for all to watch will be at 6. Higher level testing will begin earlier that day – be sure to consult your test invitation.
New Training Video Access
Rising Dragon is now posting all of its training DVDs on an internet site – so when you purchase a 'Block of Training' for Kung Fu and Kenpo, Tai Chi, Kickboxing you will have access anywhere, anytime with any mobile device or computer! Costs for video access ranges from $30-$60. Those who have previously bought DVDs should see Sigung and he will hook you up for video access to those.
Block 3 Focus
Week 1 (June 4-9): Forms and Sparring
Week 2 (June 11-16): Tournament Preparation
Week 3 (June 18-23): Fist Sets & Weapons
Week 4 (June 25-30): Testing Preparation
Special Dates
White Lotus Tournament – Saturday, June 16 8 a.m at Be Martial Arts, 11122B N. Cedarburg Rd in Mequon
Business Meeting – Wednesday, June 20 8:00pm
Test Block 3 – Friday June 29 5 p.m. Awards at 6:30pm
Monthly Fees
Pay before the 5th of the month to avoid late fees. Credit/Debit cards are accepted. Receive up to 3 months free by purchasing 3, 6, or 12 month packages!
May 23, 2018 |
News
|
Comments Off

on June 2018 Newsletter