May 2018 Newsletter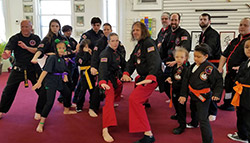 It was a dark and stormy night, where's the captain?
People think leaders are "in charge" and "get their way." But real leadership is steering the wheel of a ship so that it lands at a destination that is good for everyone on the ship. Leadership is a place of serving like every other position on the ship. As it says in the Pai Lum warrior creed, "the warrior has the foresight to see beyond the present and into the future." Read more on Sigung Steve's blog…
No Classes Memorial Day Weekend
Rising Dragon will be closed Saturday, May 26th and Monday, May 28th in honor of Memorial Day.
White Lotus Association TOURNAMENT
Saturday, June 16 – 8 a.m. to Noon
We will be partnering with Be Martial Arts and White Cobra Martial Arts for our state tournament this year. Other schools will be welcome as well to compete and have a great day of fun and fellowship! Experience camaraderie among fellow students and schools, test out your forms, defense, weapons, sparring and skills. This is just around the corner – so start your training for competition now!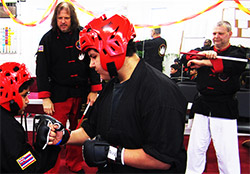 Competition includes:
Kung Fu Forms / Tai Chi Forms / Weapon Forms
Point Fighting / Chinese Wrestling / Push Hands / Full Contact Fighting
Self-Defense / Crane Stance / Horse Stance
Special Cost: Any 2 events for $40 / Any 4 events for $60 / additional events $5 each
The tournament is location will be in Milwaukee; exact place to be announced. Get your application from any of these schools today.
Schedule:
8 a.m. Black Belt Divisions
9 a.m. All ranks Forms & Weapons
10 a.m. All ranks Sparring
11: a.m. All ranks Self-Defense, Crane, Full Contact
Sparring Equipment Special
We are phasing out our "loanable" equipment for safety and hygiene reasons. If you would like to purchase the used helmets and gloves you may do so this month only: Sparring Gloves $10, Helmets $15. All students will need their own sparring gear to participate in sparring classes after May. Please see the proshop for new items or the special sale of used gear this month. We have helmets in stock in Black, Silver or Red – but other colors are available (Pink, Blue, Etc.) if you wish to order through the catalog.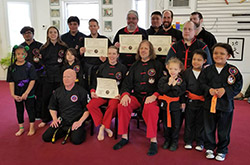 Testing Block 2
Testing will be on Friday, May 11th at 5pm. An Awards Ceremony for all to watch will be at 6. Higher level testing will begin earlier that day – be sure to consult your test invitation.
New Training Video Access
Rising Dragon is now posting all of its training DVDs on an Internet site – so when you purchase a 'Block of Training' for Kung Fu/Kenpo, Tai Chi, or Kickboxing, instead of a clunky out of date DVD you now will be given access to the site for the videos on the web. You will have access anywhere, anytime with any mobile device or computer!
Costs for videos:
Pee Wees (3 Blocks) and Little Dragon Training (1 Block) is $30
Adult Tai Chi, Kickboxing, Kung Fu & Kenpo Beginner Blocks: $40
Intermediate Blocks: $50
Advanced Blocks: $60
Higher Black Blocks: $75
Those who have previously bought DVDs should see Sigung and he will hook you up for video access of what you purchased!
Block 3 Focus
Week 1 (May 1-5): Basics
Week 2 (May 7- 12): Forms
Week 3 (May 14-19): Fist Sets
Week 4 (May 21-26): Weapons
Week 5 (May 28-Jun 2): Sparring & Info
Special Dates
Test Block 2 – Friday May 11 at 5pm. Awards 6:30 pm.
Business Meeting – Wednesday, May 23 8:00 pm
No Classes Memorial Day Weekend – Sat. May 26 & Mon. May 28
White Lotus Tournament – Saturday June 16 8 a.m.
Monthly Fees
Pay before the 5th of the month to avoid late fees. Credit/Debit cards are accepted. Receive up to 3 months free by purchasing 3, 6, or 12 month packages!
May 6, 2018 |
News
|
Comments Off

on May 2018 Newsletter