November 2017 Newsletter
New Blog Post – Love Me, Love Them Not
My son Callen is at a great age and place – he says on his own frequently through the day, "I love you Papa!" "I love you Mama!" Now I know he really loves us, but I'm a bit suspicious when he eyes my candy bar in my hand and says, "I love you!" If love is the greatest quality it is also the greatest abused quality. Read more on Sigung Steve's blog…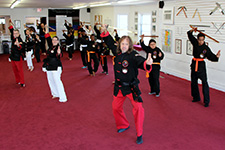 King of Weapons Spear Seminar!
Known as the king of weapons, this very traditional kung fu fighting weapon will be open to all students to learn on Saturday November 11 from 11 a.m. to 12:30 p.m. During this hour and a half you will learn a glorious battle form to improve your skills, self-defense and increase your health! Do not miss this rare opportunity (It maybe another 10 years before offered in seminars again). Sign up at the school. Because of space this seminar is limited to the first 12 people.

Cost: $50 for Seminar
Special Spear Cost with Seminar $80 (Normally $100)
Testing Block 2
Make up Test for Block 2 will be on Friday November 11 at 5 p.m. Awards Ceremony for all to watch will be at 6:30. Intermediate-advanced testing will be earlier on that day, check your test invitation. Students be sure to turn in your filled out manual earlier in the week and check in with payment.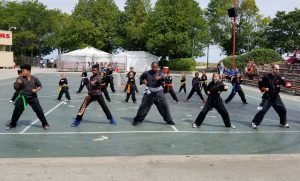 No Classes Thanksgiving Break
Enjoy family time or friend time. If someone has no plans for Thanksgiving let Sigung Steve or Sifu Melodie know – there is a place at our table or one of our kung fu family's table for you!
Parents – Advertise Your Business Free
We want to support the small business (or large) of our kung fu family! At the front of the school where visitors sit is a business card holder. Feel free to place your business cards there if you attend or have a family member active in our Rising Dragon School. We encourage visitors to support the extended families of our students by patronizing these businesses!
Block 2 Focus
Week 1 (Oct 30–Nov 4): Basics
Week 2 (November 6-11): Forms
Week 3 (November 13-18): Self Defense
Week 4 (November 20-25): Sparring
Week 5 (November 27-31): Weapons
Special Dates
Make-up Test Block 2 – Friday November 10, 5pm Awards 6:30pm
King of Weapons – Spear Seminar Saturday November 11, 12pm
Business Meeting – Wednesday November 15, 8:30pm
Thanksgiving (No Classes) Thursday & Saturday November 23, 25
Monthly Fees
Pay before the 5th of the month to avoid late fees. Credit/Debit cards are accepted. Receive up to 3 months free by purchasing 3, 6, or 12 month packages!
October 31, 2017 |
News
|
Comments Off

on November 2017 Newsletter