September 2016 Newsletter
New Blog Post: No Phone Fu
You have hear the expression "phoning it in"? It means getting something done with no or little effort. It means just showing up at your job and sitting on your hands the whole day. There is no spirit, no effort, no passion. You have probably phoned things in before. I have. Occasionally students "phone in" a class. They show up, but despite a teacher's encouragement to put their all into the practice they remain apathetic. Sadly they are primary hurting or cheating themselves. What you put into something is what is often returned. Read more…
New Things at Rising Dragon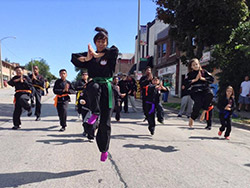 The Phoenix Kickboxing room nears completion. A revamping of walls, art, roofing, more lighting and two beautiful hand painted logos of the association and our school (by Sidi Suzan – much thanks to her for her contribution of skill and hard work!) are part of the beautiful remodeling. New DVDs now include all kung fu and kenpo levels through Block 9 for Pee Wees, Little Dragons, Juniors and Adults. Tai Chi has blocks 1-3 available now. Also there are new videos available on our website.
Kung Fu Demonstration
Congrats to all who participated in the Mexican Fiesta Demonstration! This month we will be demonstrating just down the street from the school on Saturday September 24: International Food & Walk at noon. We will be at 33rd and National with a table performing out in the street area. We will be rehearsing that morning prior to our performance from 10-11:30 a.m at the school in lieu of our regular Saturday morning class.
Congratulations to Our New Sihings!!

Congratulations to three new Sihings (Assistant Teachers/Senior Students): Sihing Yamilet Flores (Brown), Sihing Saul Flores (Black Junior), and Sihing Lauren Jungmann (Black Junior). We are proud of their hard work over many years and this great achievement. Soon, look for their biographies on the Instructor's page of our website!
Teacher Updates
Congratulations to Sifu Doug who is celebrating his 40th birthday milestone this month. Sifu Jon and his school, White Cobra Martial Arts, will be hosting a family self defense seminar this month. Contact him if you are interested in attending at jon@whitecobra.us. Sifu Andrea has been working at the Renaissance Faire this summer and has a brand new tattoo.
Teacher Thank You Dinner
All teachers are invited to Sigung Steve's and Sifu Mel's home for a special thank you for our teachers working so hard. The theme is Croquette, Croquet & Crickets. Special Croquette Dishes, Prizes for Croquet Winners — and yes there will be Crickets to eat (also with a prize for the most eaten).
Upcoming Seminars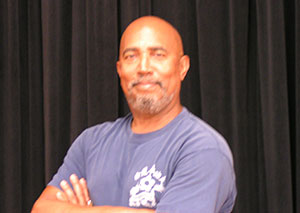 Lng Shr (Senior Master) John Riddick will be providing seminars here at Rising Dragon School November 11 & 12, 2016. Lng Shr John has 40 years experience in Pai Lum Kung Fu! He trained directly under Grandmaster Pai for 14 years and is one of the highest ranked Pai Lum martial arts actively teaching with a school today. He will join us to bring great insights into our Pai Lum, teaching us new material and sharing many memories and stories of Grandmaster Pai. Start planning now for that weekend!
September Special
New student special: buy 3 months or more and receive and free uniform!
Special Dates
No Classes Labor Day Weekend – Saturday & Monday, Sept 3&5
Re-Test Block 1 – Friday, Sept. 9, 5 p.m. Awards at 6:30 p.m
Business Meeting – Wednesday, September 14 at 8:30 p.m.
International Food & Walk Demo – Saturday, Sept. 24 at 2 p.m.
Day of the Dragon Seminars – Friday & Saturday, November 11 & 12
Block 1 Focus
Week 1 (Aug. 29- Sept 3): Basics
Week 2 (September 5-10): Forms
Week 3 (September 12-17): Forms
Week 4 (September 19-24): Fist Sets
Week 5 (September 26-30): Sparring
White Lotus Memberships
Renew membership in 2016 and receive a WLA patch or Nationality Flag! If you have all the patches on your uniform receive a free birdie ball!
Payments
Pay before the 5th of the month to avoid late fees. Buy 3, 6 or 12 months and receive great discounts and savings. Credit/Debit cards are accepted.
– Sigung Steve Jungmann
Pai Xeang Lum
August 30, 2016 |
News
|
Comments Off

on September 2016 Newsletter