September 2017 Newsletter
New Blog Post – A Code for Living
Orange is the level of honor. What do we mean when we say someone has "honor"? In the ancient days, samurai warriors were considered to have honor because they lived by a code. Read more on Sigung Steve's blog…
Thanks to all who participated in last week's Mexican Fiesta demo!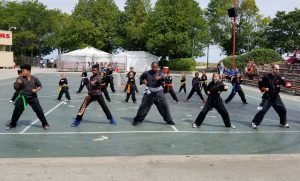 We had an awesome demonstration at Mexican Fiesta on the Summerfest grounds last Friday. The weather was great, and our group of over 20 students and teachers we performed basics, forms, fist sets, tai chi, weapons (saber, katana, monk's spade and chain whip), and Sigung Steve broke bricks for the audience!
No Classes Labor Day Weekend
We will be closed Saturday Sept. 2 and Monday Sept. 4. Enjoy your holidays!
Make-up Test Block 1
The make-up test for block one will occur on Friday September 8 at 5 p.m. The awards ceremony for all to watch will be at 6:30 p.m. Intermediate-advanced testing will be earlier on that day, so be sure to check your test invitation. Students must turn in their filled out manual earlier in that week.
Silver City Festival Demonstration
Our Rising Dragon demonstration will be Saturday September 9 at noon just down the street at 33rd and National. We will have a table as well as be performing on stage and by our table. Rehearsal will be the same morning of Sept 9 from 10 -11:30. Then students are welcome to walk down as a school to the event with all parents and friends as well. Full dress uniform required.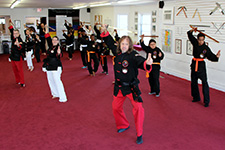 Sihing Teacher Seminars
All Green Belts and Higher are invited to our special "Sihing –Assistant Teacher" training seminar. The cost is only $10 and includes pizza dinner. It is on Friday September 15 from 5 p.m. to 8 p.m. Students will do hands on training workshops on how to be a better teach or assist. This is for all ages 8+ who assist in classes. Adults and full teachers will greatly benefit from this seminar and will be able to employ assisting students much more effectively. Teacher – Students will learn five primary roles of support teacher – "the Drill Sergeant," "the Praisenhauser," "the Popcorn Machine," "the Gopher," and the "Mini-Me Master."
Doors Open Milwaukee
Our building at 3429 W. Greenfield will be part of the Doors Open Milwaukee program on Sunday September 25, 2017. Our facility will be open for short tours because of its historical significance and unique design. Originally the outside Milwaukee corner grocery store in 1905, see photos and a book written about life in this building back then as well as some of the history of changes over the century, including its most recent renovation of the office addition and tai chi garden. Open to all the public from Noon til 5 pm. this day!
Teacher Night Out
All adult sifus and sihings (and spouses/significant others) are welcome to our annual teacher appreciation night. This year Sigung Steve and Sifu Mel will be hosting a party in their back yard on Saturday October 7, 2017. Please Rsvp your attendance!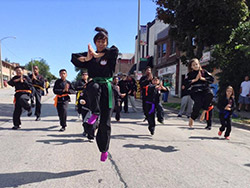 New Shirts!
A special edition Crimson Red shirt with yellow-gold inking is now available!
Wild at Heart Men's Group
Sigung Steve will be participating and helping to lead a men's group study on two Saturday mornings a month from 7-9 a.m. at his nearby church, Meadowbrook, at 1025 North 70th Street. Men join this passionate, daring and wild at heart video series. The first one is September 9th. See Sigung for more information and join this adventure in male discovery and bonding.
Testing for Sigung and Sifu Levels
Please hold the dates of March 12-17, 2018 for high rank testing. More specifics to follow!
Parents – Advertise Your Business Free
We want to support the small business (or large) of our kung fu family! At the front of the school where visitors sit is a business card holder. Feel free to place your business cards there if you attend or have a family member active in our Rising Dragon School. We encourage visitors to support the extended families of our students by patronizing these businesses!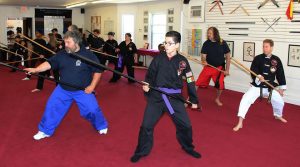 Pai–Chia Fall Seminar
Sifu Bill Luciano along with David L. Smith (Senior Teacher of the Pai Family Art) will be presenting Pai Lum seminars in New York October 14, 2017. See Sigung for more details if interested.
Block 2 Focus
Week 1 (August 28 – Sept 2): Basics
Week 2 (September 4-9): Forms & Info
Week 3 (September 11 – 16): Sparring & Fist Sets
Week 4 (September 18 – 23): Weapons
Week 5 (September 25 – 30): Forms & Info
Special Dates
No Classes Labor Day Weekend Sat. & Monday (Sept 2 & 4)
Make-up Test Block 1 – Friday, September 8 at 5 pm. Awards 6:30 pm
Silver City Festival Demo – Saturday Sept. 9, 12 p.m.
Support Teacher Seminar – Friday September 15, 5-8 p.m.
Open Doors Milwaukee – Sunday September 24, 12-5 p.m.
Monthly Fees
Pay before the 5th of the month to avoid late fees. Credit/Debit cards are accepted. Receive up to 3 months free by purchasing 3, 6, or 12 month packages!
August 30, 2017 |
News
|
Comments Off

on September 2017 Newsletter