September & October 2018 Newsletter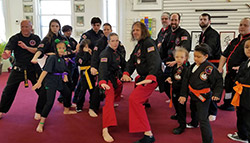 THIS JUST IN – November Demonstration
On Friday, November 3rd the school will be performing a demonstration at the Milwaukee Christian Center. Details are coming soon!
Silver City International Festival Demonstration
Saturday September 8 Noon to 2 p.m. We will be performing on stage for 45 down the street 34th and National at 1 p.m. We will do a rehearsal from 10- 11:30 at the school. Then students, parents and teachers can walk down to the demo two blocks away (or feel free to drive).
We will be manning a table and doing performances throughout the afternoon there as well for folks who want to stay and enjoy the festival. Either bring a sack lunch or some money (as there will be a number of wonderful food vendors at the festival). Parents are responsible for their youth during the festival.
White Lotus Association Business Meeting
We are hosting a special White Lotus Association quorum meeting to go over annual business and take motions on changes to our governing rules and regulations. All teachers please rsvp your attendance for Wednesday September 19 at 8 p.m.
Assistant Teacher Training
Want to learn how to help others in class? Learn how to be a leader? Want to teach at this school and maybe open your own school one day? Then join us for the annual Assistant Teacher Training session from 4-7 p.m. Friday September 21. The Cost is $15 and includes session sheets, training and a pizza, drink, dessert dinner. All little dragons brown and up are invited. All junior and adult dragons blue and up are invited.
Notes
Congratulations to our new ranks: Dayanara Yepez (Grey Star), Amaya Esteves (Grey, )Juventino Luna (Green), Jailynn Sefo (Blue), Pat Bolairis (Purple), Omar Gutierrez (Yellow), Nelly Guierrez (Yellow), Irma Gutierrez (Yellow), Alvin Xiong (Yellow), Yuepheng Xiong (Yellow), Cesar Gutierrez (Yellow),Juan Chavez-Esquivas (Yellow), Diego Perez (Yellow), William Jones (Yellow).
Congratulations to all who came down and performed at Mexican Fiesta on August 25 – it was one our best shows with all the students showing excellent focus and unity and effort even with a dozen beginners. Great job dragons!
OCTOBER 2018
Tournament & Seminar
Saturday October 13
11:00 a.m. Tournament: Weapon Forms
12:30 Seminar: Protecting Against Modern Weapons
1:30 p.m. Kickboxing Matches (tentative)
Location: Rising Dragon School 3429 W. Greenfield Ave.
Cost: $30 (White Lotus Members) includes weapon competition, seminar and spectating kickboxing.
$40 Non WLA members
Early Registration by September 22: Save $5 on cost
1 family member/friend free spectating per entry. $3/person for spectating otherwise
Other local WLA schools participating and nonmember schools welcome. Students will compete in Weapon Forms by age 4-7, 8-11, 12-15, and 16 -Adult. There will be beginner, intermediate and advanced divisions. Trophies awarded to all first places, medals to 2nd and 3rd places. Weapon Forms can be any traditional weapon. Kickboxing matches are those held over (delayed) from the last tournament. If interested contact Sigung Steve at 414 383 7727. Free spectating is included with your purchase.
Annual Halloween Spooktacular
On Wednesday October 31 during regular class times for children and adults, Rising Dragon will be having its annual Halloween party! We will be learning Ghost and Shadow techniques, and there will be creepy games, haunted stories, candy and costumes! The costume contest will be for best costume of each age group:
4:30 4-7 year olds
5:15 8-11 year olds
6:00 12-15 year olds
7:00 Adults (Tai Chi, Kung Fu and Kenpo)
Rising Dragon Business Meeting
All teachers and students on the teacher path (green and higher) are welcome to see the ins and outs of small business training, get a pulse on our school family and get insights on future direction.
Testing
Friday October 27 at 5 p.m. Awards Ceremony 6:30 p.m. Higher ranks will start earlier so check your test invitation.
Block 2 Focus
Week 1 (Sept 3-8): Demo Practice
Week 2 (Sept 11-15): Basics / Forms
Week 3 (Sept 18-22): Weapons
Week 4 (Sept 25-29): Fist Sets
Week 5 (October 1-6): Sparring
Week 6 (October 8-13): Weapons
Week 7 (October 15-20): Forms & Fist Sets
Week 8 (October 22-27): Review & Testing
Upcoming Events
Testing Block 1 – Fri, September 7 5-6:30 p.m.
Silver City Demonstration – Sat, September 8 12-2 p.m.
WLA Business Quorum Meeting – Wed, Sept. 19 8:00 pm
Assistant Teacher Training – Fri, September 22 4-7 p.m.
WLA Tournament and Seminar – Sat, October 13 10:30
Rising Dragon Business Meeting – Wed, Oct 17 8:00 pm
Testing Block 2 – Fri, October 25 at 5 p.m. Awards 6:30 p.m.
Halloween Spooktacular – Wed, October 31st
Monthly Fees
Pay before the 5th of the month to avoid late fees. Credit/Debit cards are accepted. When you purchase 3, 6, or 12 month packages you save up to $300 compared to the monthly rate.
Thoughts
You did not wake up to be mediocre today! 7 days without kung fu makes 1 weak!
– Sigungs Steve and Melodie
Pai Xeung Lum/ Fung Huoang
September 9, 2018 |
News
|
Comments Off

on September & October 2018 Newsletter