April 2017 Newsletter
Wisconsin State Spring Tournament 2017 – A Kung Fu Challenge!
Saturday April 8, 2017. We will be partnering with Chin Be Martial Arts for our state tournament this year. Hosted by two great schools – others also will be welcomed to compete with us as well! Experience camaraderie among fellow students and schools, test out your forms, defense, weapons, sparring and skills. This is just around the corner – so start your training for competition now!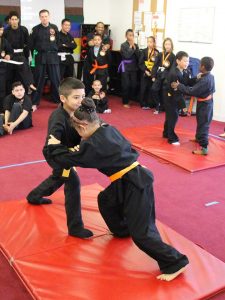 Competition includes: Kung Fu Forms / Tai Chi Forms / Weapon Forms / Point Fighting / Chinese Wrestling / Push Hands / Self-Defense
Special Cost: Any 2 events for $40 / Any 4 events for $55 / additional events $10 each
The tournament is being held just down the street from our school at Sacred Heart (cafeteria floor one) at 1501 S. Layton (27th street).
8 a.m. Black Belt Divisions
9 a.m. All ranks Forms & Weapons
10 a.m. All ranks Sparring
10:30 All ranks Self-Defense
Bring Family or Friend Special
April each student can bring one friend and family member for a free week of classes ($20 value)!
New Bumper Stickers
New Orange/Red Magnetic Bumper stickers are available at the school. They say, "Warrior with Compassion" along with a fighting logo and our school name. Normally $10 – for the month of March they are 50% off.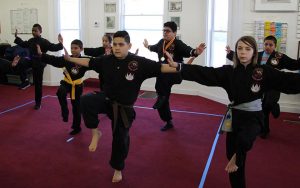 Testing Block 2
Block 2 test will be on Friday April, 28th at 5 p.m. Intermediate-advanced testing will be earlier on that day, check your test invitation. Students need full dress uniform, school patch, white lotus membership patch and training manual. Those items area available in the Pro-shop.
Special Yoga Class!
Marie is an expert yoga teacher (she owns a school in Wales) and she will be presenting a unique seminar class to understand and practice this art for health and well-being. This is free to all regular tai chi students. Kung Fu and Kenpo students may attend for only $10 and non-White Lotus members may attend for $20. The date is May 20, 2017 at noon.
No Classes Easter Weekend
Saturday April 16 there will be no classes in observance of the Resurrection celebrations.
June Pai Lum Seminars!
We are honored to have the return of Sifu William Luciano from New York presenting seminars on Friday June 9th and Saturday June 10th. Highly recognized in Pai Lum circles for his knowledge and expertise in Pai Lum, Sifu Bill also brings hands on experience to make your kung fu, kenpo and tai chi the best. This is a rare opportunity to train, have fun and learn! Set the date in your calendar now. Much more information upcoming about this in the next newsletter!
Special Dates
Kung Fu Challenge Tournament – Saturday, April 8 at 8 a.m.
Business Meeting – Wednesday, April 12 at 8:30 p.m
No Classes Easter Weekend – Saturday, April 16
Test Block 2 – Friday, April 28 at 5 p.m. Awards at 6:30 p.m.
Block 2 Focus
Week 1 (April 3-8): Sparring
Week 2 (April 10-15): Weapons at Sacred Heart 1501 S. Layton
Week 3 (April 17-22): Fist Sets
Week 4 (April 24-29): Review & Testing
Monthly Fees
Pay before the 5th of the month to avoid late fees. Credit/Debit cards are accepted. Receive up to 3 months free by purchasing 3, 6, or 12 month packages!
April 4, 2017 |
News
|
Comments Off

on April 2017 Newsletter