August 2018 Newsletter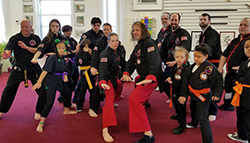 New Blog Post – Have a Good Day
One of the key ideas of Shaolin Kung Fu is to live in balance. Balance means not every day will be an easy day. There will be days of loss (losing jobs, friends, a family member) and days of growth (new rank, new clothes, new career, new bike, new skills, new recognition). But all these days are still good days. Read more on Sigung Steve's blog…
White Lotus Association Tournament
Saturday October 13
10:30 a.m. Tournament: Weapon Forms and Weapon Fighting
11:30 a.m. Seminar: Protecting Against Modern Weapons
1:00 p.m. Kickboxing Matches (tentative)
Location: Rising Dragon School 3429 W. Greenfield Ave.
Cost: $40 (White Lotus Members) includes both competitions, seminar and spectating the kickboxing.
$55 Non WLA members
Early Registration by September 22: Save $5 on cost
1 family member/friend free spectating per entry. $3/person for spectating otherwise
Other local WLA schools participating and nonmember schools welcome. Students will compete by age 4-7, 8-11, 12-15, and 16 -Adult. There will be beginner, intermediate and advanced divisions. Trophies awarded to all first places, medals to 2nd and 3rd places. Weapon Forms can be any traditional weapon. Weapon Sparring: one can elect either long foam staffs or short foam sticks competition. Head gear required with face protection (there will be available Head/face gear protection on site as needed). The Kickboxing matches are those held over (delayed) from the last tournament. They will be exciting matches to watch right after the seminar. Free spectating is included with your purchase.
Block 1 Testing
Friday August 25 at 5 p.m. Awards Ceremony 6:30 p.m. Higher ranks will start earlier so check your test invitation
No Classes Labor Day Weekend
There are no classes held Saturday September 1 and Monday September 3 in honor of Labor Day Weekend.
Silver City International Festival Demonstration
Saturday September 8 Noon to 2 p.m. We will be performing on stage for 45 down the street 34th and National at 1 p.m. We will do a rehearsal at 11 a.m. (right after Saturday 10 am class). Then students can walk down to the demo with the teachers. We will be manning a table and doing performances throughout the afternoon there as well for folks who want to stay and enjoy the festival.
White Lotus Association Business Meeting
We are hosting a special White Lotus Association quorum meeting to go over annual business and take motions on changes to our governing rules and regulations. All teachers please rsvp your attendance for Wednesday September 19 at 8 p.m.
Monthly Fees
Pay before the 5th of the month to avoid late fees. Credit/Debit cards are accepted. When you
purchase 3, 6, or 12 month packages you save up to $300 compared to the monthly rate.
August 9, 2018 |
News
|
Comments Off

on August 2018 Newsletter