July 2014 Newsletter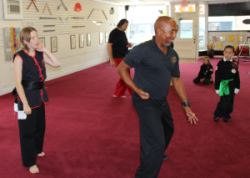 What a great time we had with Lng Shr John Riddick last month as he taught us forms and shared his wealth of knowledge of Grandmaster Pai! A special thanks goes to him for coming up from Florida and providing training.
Demonstrations
July brings us our first two demonstrations of the year:
• Join us at Jackson Park for a demonstration of kung fu and tai chi forms, self-defense, weapons, and board breaking! We want all students to participate. It's Friday, July 4, 10:30 a.m. at the park. Jackson Park is between 35th and 43rd streets and between Lincoln and Forest Home Ave.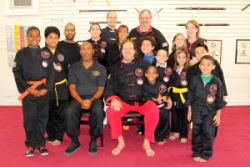 • We are invited back to perform at Three Bridges Park which is a bike/walking path just north of the entrance at 37th and Pierce. We are performing at 11:30 a.m. on Saturday July 19. We will have our normal class from 10-11 and then at 11 we will walk over to the park which is about a ½ mile away for those who wish to.
Demonstrations are an awesome opportunity to show family, friends, and the community your Pai Lum training and skills. It is also good for students' personal development to learn to perform on a stage area in a public setting. Please be 15 minutes early to any demo and have full dress uniform: Jacket, Pants, and Sash/Belt and Patches. Join us to display the awesome power and beauty of Pai Lum!
Free Metallic Bumper Sticker
Get a friend to visit to watch or try a free class and get a free metallic bumper sticker for yourself ($10 value) during July or August only.
Important Events & Dates:
Jackson Park Demo, July 4
Monthly Dues by, July 5
Testing and Awards, July 18
3 Bridges Park Demo, July 19
Train hard,
– Sigung Steve Jungmann
Pai Xeang Lum
July 2, 2014 |
News
|
Comments Off

on July 2014 Newsletter