July 2015 Newsletter
Greetings, Dragons!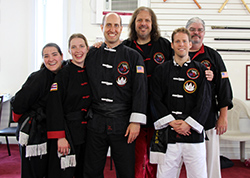 Congratulations to our newest Sifus – Sifu Jon Odishoo and Sifu Doug Bowman. They have completed one of most distinguished journeys in life – becoming a black belt in Pai Lum and becoming a teacher to others.
This was a journey of many years of dedicated commitment, honor, loyalty and hard work that cumulated in a three day test of approximately 30 hours. Both of them earned degrees in the Pai Yang Tai Chi system. Sifu Melodie Jungmann also tested with them adding the Tai Chi degree to her 3rd level Kung Fu degree. We salute them: Oussshh!
Public Demonstrations
Our school and system is popular for presenting demonstrations of kung fu to our community and in sharing our wealth of unique heritage of martial arts. We have accepted 3 of the 4 requests made to us for this month: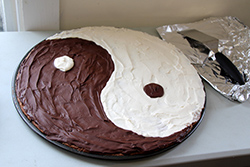 July 4 – Jackson Park Fourth of July Demonstration at 10:30 a.m.
Please note there are no scheduled classes for this holiday, however you may convene at school at 9:30 a.m. to carpool over at 10 or just meet at the park location at 10:10. The demo starts at 10:30 including forms, basics, weapons and breaking of wood. We meet at the furthest southern end of the large park which borders 35th and Forest Home and goes up to 41 and Oklahoma. There are many other activities to enjoy all day at the park for your family including fireworks at 9:15 p.m. Students are invited to participate in the parade as well which begins at 36th and Mitchell goes to the park. That begins at 8:30. Come for the parade or meet for the demo and enjoy your 4th of July!!
July 25 – Three Bridges Park Demonstration at 12:00 p.m.
We happily return for the 3rd year to Three Bridges Park at 3700 W. Pierce very near our own school. We will have demo practice that Saturday morning from 10-11, and then students can walk with the teachers over to the park less than a mile away. Students may enjoy the nature museum, trail and special activities going on after our demonstration.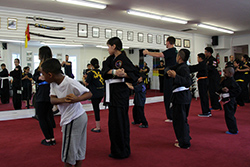 August 8 – Fiesta Tailgate Demonstration
Join us at Miller Park as we perform for a special tailgate party for members and families of the Hispanic Chamber of Commerce! We will know the exact time of the event soon.
New DVDS
Practice at home your entire block for level:
Adult & Junior DVDs: $40
Little & Pee Wee DVDs: $30
Block I Focus
Week 1 (June 29—July 4): Basics Block 1
Week 2 (July 6-11): Forms Block 1
Week 3 (July 13-18): Forms & Sparring Block 1
Week 4 (July 20-25): Fist Sets Block 1
Week 5 (July 27-Aug. 1): Fist Sets Block 1
Special Dates
Sat. July 4 – No Classes / Jackson Park Demo 10:30
Fri. July 10 – Block 3 Testing 5 p.m.
Sat. July 11 – Three Bridges Park Park Demo 12:15
Sat. Aug 8 – Fiesta Tailgate Party Miller Park stadium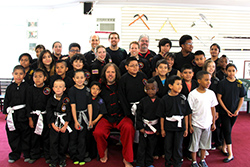 Ice Breaker Tournament
Congratulations to our champion performing team that participated last month in a local tournament sponsored by Chin Be Martial Arts. It was great fun and our students proved to be dragon warriors!
Payments
Remember to avoid late fees after the 5th and 10th of each month. Also check out our new large savings when buying 3, 6, or 12 months! Rising Dragon accepts all major credit cards and bank debit cards.
Rising Dragon Magnetic Stickers
We have high end magnetic bumper stickers for your car advertising our school Rising Dragon. If you have one on your car and Sigung Steve or SiFu Mel sees you and the sticker outside of a ½ mile radius of the school you will get a free $5 gift certificate for our pro shop each and every time!
New Student Manuals!
Coming in August in an all inclusive student manual giving heritage, martial arts material through all levels to Black, and combining beads and testing and portfolio all in one book and much more! Make your Pai Lum journey the best by writing in our new student manual!
Rising Dragon Rings
We are proud to present a new creation utilizing our dragon, calligraphy and the artistic skills of Sifu Andrea's business "Andi's Designs." These new dragon rings are silver (white) representing white dragon "Pai Lum" and have calligraphy of Pai on the sides and for teachers their unique names inscribed on the sides with calligraphy. The pure silver dragon also has a color stone in the eye:
Si Gung: Red/Ruby stone
Si Fu: White/Diamond stone
Si Hing: Bronze/Gold stone
Si Di: Green/Emerald stone
The rings are available for $95 and beautifully display your Pai Lum / Rising Dragon heritage and rank.
To your health,
– Sigung Steve Jungmann
Pai Xeang Lum
June 29, 2015 |
News
|
Comments Off

on July 2015 Newsletter