June 2015 Newsletter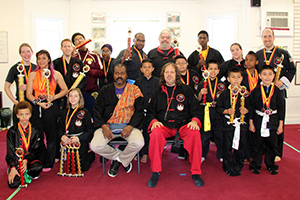 Dear Dragons,
Congratulations to all the warriors who competed in the 18th annual Spring Wisconsin tournament. We had over 100 competitor entries with two additional schools sending students and teachers to compete and assist.
It was a great day that saw all kinds of forms (tai chi, kung fu, kenpo and weapon) and many different types of sparring (point, chinese wrestling, weapon and full contact)! Be proud of showing your warrior spirit in the ring and be sure to mark down the event and results in your Rising Dragon Portfolio.
Black Belt Testing & Free Seminars June 13th
Our next big focus is June 11-13 with a 3 day black belt test in Tai Chi for Sifu Melodie, Sihing Jon and Sihing Doug. Be wishing them well to spend 12 hour days showing their material and proving themselves in the ancient fire of testing in Pai Lum. Those who pass their test will receive the black sash with their names both in English and in Chinese calligraphy. They will receive scrolls with their new name and show the fringe on their sash of SiFu!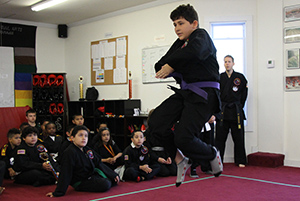 Everyone will benefit from their teaching skills on Thursday, June 13 as part of their test they will give 3 free seminars for all students from 5:30-7:30. All students of all ages are welcome that night. And you can see the results of their testing at the awards ceremony on Saturday June 13 at 12:00 p.m. May your testing be filled with Ha Na!
Class Early Arrival
Parents please drop students off no more than 5-10 minutes before their class time and by 10 min afterwards pick them up. "Babysitting" surcharges may be added for those staying later than 10 minutes after their class ends. Thank you!
New DVDs
We have available beginner level DVDs according to Blocks (1,2 or 3). Each DVD contains complete presentation of all material including basics, forms, fist sets, sparring, weapons and information.
Adult & Junior DVDs: $40
Little & Pee Wee DVDs: $30
Older (non-block) DVDs are available for ½ price while they last.
White Lotus Association
Make sure your membership is current to receive 25% off on all seminars and tournaments!
Upcoming Demonstrations
As we enter into summer we have several tentative demonstrations to perform at including: Mexican Fiesta at Summerfest grounds, Asian Moon day in Silver City (35th and National) and also for the Spanish Chamber of Commerce at Milwaukee Brewers Stadium.
Class Schedule
Click here for our updated class schedule.
Block III Focus
Week 6 (June 1-6): Weapons
Week 7 (June 7-13): Info & Training Games
Week 8 (June 14-20): Reviews & Beads
Week 9 (June 21-27): Reviews & Testing
Special Dates
June 11-13 – Three Day Black Belt Test
Th. June 11 at 5:30 – Free Seminars at School (all students invited)
Wed. June 17 at 8:30 – Business Meeting
Fri. June 26 at 5:00 – Testing Block 3 & Awards
Sun Jun 28 at 12:00 – Ice Breaker Tournament
Ice Breaker Tournament
All interested in competing see Sigung Steve or Sifu Mel. Competitions are in Forms, Weapon Forms, and Self Defense. Open to all ages. This tournament is being held at Tanner Paul Hall 6922
W. Orchard in West Allis. It begins at noon! We will be supporting this with as many students that wish.
Testing Requirements
As a reminder all students need 4 things prior to testing:
Dress Uniform with school patch and White Lotus patch
Active White Lotus Membership
Portfolio page for level completed and turned in
Payment made prior to exam which covers new belt, certificate and time of testing.
Summer Special
All students and new students may take advantage of the summer special rate of 3 months (June, July & August) for only $169 Youth and $189 Adults. Save up to $50 this summer on classes…then never feel bad for missing on summer family vacations or other events because you saved 3 weeks on the discount. Have a great summer while staying healthy and improving your martial arts!
Payments
Remember to avoid late fees after the 5th and 10th of each month. Also check out our new large savings when buying 3, 6, or 12 months! Rising Dragon accepts all major credit cards and bank debit cards.
Rising Dragon Magnetic Stickers
We have high end magnetic bumper stickers for your car advertising our school Rising Dragon. If you have one on your car and Sigung Steve or SiFu Mel sees you and the sticker outside of a ½ mile radius of the school you will get a free $5 gift certificate for our proshop each and every time!
-Sigung Steve Jungmann
Pai Xeang Lum
June 1, 2015 |
News
|
Comments Off

on June 2015 Newsletter