March 2017 Newsletter
New Blog Post: Honor – Standing With Your Convictions
The third white lotus code is "Honor. I will stand with the truth and my convictions." Last month we talked about how telling the whole truth is part of true honor. This month we will talk about living by one's convictions – when we do this it is called "integrity." A conviction is something you believe to be true – it can be a philosophy or a deeply held belief, and it generally impacts the way we live. Read more on Sigung Steve's blog…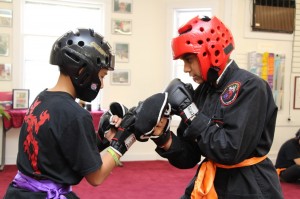 Wisconsin State Spring Tournament 2017 – A Kung Fu Challenge!
Saturday April 8, 2017. We will be partnering with Chin Be Martial Arts for our state tournament this year. Hosted by two great schools – others also will be welcomed to compete with us as well! Experience camaraderie among fellow students and schools, test out your forms, defense, weapons, sparring and skills. This is just around the corner – so start your training for competition now!
Competition includes:
Kung Fu Forms / Tai Chi Forms / Weapon Forms
Point Fighting / Chinese Wrestling / Push Hands / Self-Defense
Special Cost: Any 2 events for $40 / Any 4 events for $55 / additional events $10 each
The tournament is being held just down the street from our school at Sacred Heart (cafeteria floor one) at 1501 S. Layton (27th street).
8 a.m. Black Belt Divisions
9 a.m. All ranks Forms & Weapons
10 a.m. All ranks Sparring
10:30 All ranks Self-Defense
Beginner Special
Buy 3 months and receive a free uniform ($60 value)!
Bring Family or Friend Special
We have a March special – sign up a new family member or a friend for 3 months and they will receive a free uniform and you will receive $30 for the proshop! This offer is the best special yet – help them master self-discipline, learn a new healthy way to live and protect themselves all while receiving huge savings!!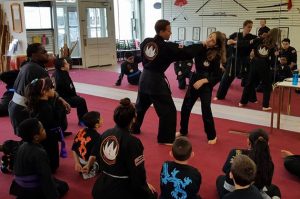 Teaching Seminars and Dragon Seminars Great Success!
Our ten teachers took three days of teaching seminars and then taught to about 30 students on Gun Take-aways, Staff / Tiger Forms and Snake / Pressure Point Defenses. Congratulations to all our teachers and students on a fantastic training weekend!
New Bumper Stickers
New Orange/Red Magnetic Bumper stickers are available at the school. They say, "Warrior with Compassion" along with a fighting logo and our school name. Normally $10 – for the month of March they are 50% off.
Special Dates
Make-up Test Block 1 – Friday March 10th at 5 p.m. Awards at 6:30 p.m.
Business Meeting – Wednesday March 15, 8:30 p.m.
Kung Fu Challenge Tournament: Saturday April 8th, 8 a.m. at Sacred Heart 1501 S. Layton
Block 2 Focus
Week 1 (Feb 26-Mar 4): Basics
Week 2 (March 6-11): Forms / Info
Week 3 (March 13-18): Fist Sets
Week 4 (March 20-25): Sparring
Week 5 (Mar 27-Apr 1): Weapons
Testing Block 1
Block 1 make up test will be on Friday March 10 at 5 p.m. Intermediate/Advanced testing will be earlier on that day, check your test invitation. Students need full dress uniform, school patch, white lotus membership patch and training manual. Those items area available in the pro-shop.
Monthly Fees
Pay before the 5th of the month to avoid late fees. Credit/Debit cards are accepted. Receive up to 3 months free by purchasing 3, 6, or 12 month packages!
March 2, 2017 |
News
|
Comments Off

on March 2017 Newsletter