Rising Dragon Spring Tournament on April 12th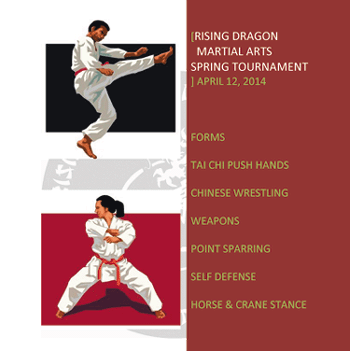 Rising Dragon is proud to announce that our 2014 Spring tournament will be held on April 12th at 8:30 am at the school, located at 3429 W. Greenfield Ave. Events will include Kung Fu Forms, Tai Chi Forms, Weapons Forms, Point Fighting, Chinese Wrestling, Crane and Horse Stance Competitions, and much more.
Everyone, even beginners and our youngest Pee Wee Dragons, are encouraged to compete. Competitors will be matched up with similar ranks and ages for each bracket.
The cost for participating in one event starts at $25 for White Lotus Association members, and there is an additional $5 discount if you sign up by April 1st. Spectators are $5 either using our signup form, or at the door on the day of the event.
Click here to download a signup form, or pick one up at the school. All minors (under 18) MUST have the signature of a guardian.
For more information, please call us at 414-383-7727 or email info@risingdragonmartialarts.com.
March 15, 2014 |
News
|
Comments Off

on Rising Dragon Spring Tournament on April 12th