July & August 2019 Newsletter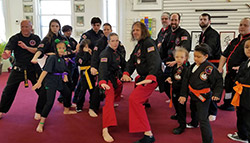 A Week of the White Lotus
Join us Saturday June 29th through Wednesday July 3rd to get a chance to see many of our different teachers from the White Lotus Association in action as they lead the class time with unique views on Pai Lum, teaching styles and varying martial arts history. Some of the teachers you'll get to meet this week include Sifu Jon, Sifu Tim, Sihings David, Michelle and Elbert.
Fourth of July
Rising Dragon will be closed Thursday July 4 in honor of our Independence Day. Enjoy the celebrations!
Testing
Friday July 12, 2019 will be Block 3 Testing (3.m. advanced / 5 p.m. beginners). Awards Ceremony at 6:30 p.m. Check with your teacher or your test invitation for more specifics.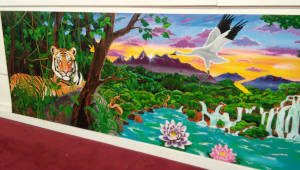 Kwoon Upgrades
Check out the new changes made to the interior primary room of our kung fu school (kwoon) – new wall board, new décor, new music and a large 24'x8' mural painting of the 5 animals. Fantastic work from our painter Joe Sottile! Come enjoy the new and larger training space and interior design!

Upcoming Events
White Lotus Week – Enjoy different teachers June 29 – July 3
No Classes Thursday July 4 for Independence Day
Testing Block 3 – Friday, July 12 3/5 p.m. Awards 6:30 p.m.
Business Meeting – Wednesday, July 17
Tournament of Games – Saturday, August 17 from 10-12 a.m.
Business Meeting – Wednesday, August 21 at 8:00 pm
Mexican Fiesta Demonstration Sat. August 24 (Time TBD)
Testing Block 3 – Friday August 30 5 p.m. Awards 6:30
International Arts Demo – Sat. Sept. 7 at 12 p.m. 33rd & Nat
Block 1 Focus
Week 1 (July 1-6): Basics
Week 2 (July 8-13): Forms
Week 3 (July 15-20): Fist Sets
Week 4 (July 22-27 ): Sparring
Week 5 (July 29- Aug 3): Weapons
Week 1 (July 29 – Aug 3): Weapons
Week 2 (August 5-10): Basics and Info
Week 3 (August 12-17): Forms & Fist Sets
Week 4 (August 19-24): Sparring and Demos
Week 5 (August 19-24): Review & Testing
Reduce Your Class Dues
Save up to $300 a year by making 3, 6 or 12 payments instead of monthly. Yearly payments equals paying for 9 months and getting 3 free months! Also a reminder that payments are due on the 1st of the month. Late fees are accessed after the 5th and 10th of a month that fees are due. Thank you for the support of our school and family!
White Lotus Tournament of Games!
Saturday August 17 at Rising Dragon Martial Arts (3429 W. Greenfield Milwaukee) from 10 a.m. – 12 p.m. We are finishing our summer with a very fun bang. Students will get a chance to demonstrate their ability in games and contests of skill. This is not forms, weapons or sparring, but a chance to perform some more unusual training exercises including Birdie Ball (solo and partner), Crane Stance, Horse Stance, Staff Pop Ups, Board Breaking, and more! Students will compete by age and rank.
Cost – $10 plus $5 for each additional category.
First place winners will receive a White Lotus Gold Medal
Be sure to get an application from any White Lotus Teacher or at the school!
Mexican Fiesta Demonstration
Saturday, August 24th 1 p.m. We look forward to returning to perform on the summer fest grounds at the venue of Mexican Fiesta on the Sports Stage. Students will get a free ticket of entry. There may be additional free tickets (1 per family) of those performing and some parking permits to those helping escort performers there.
International Arts Demonstration
Saturday, September 7, 12 pm.-1:30 p.m.th On National Street between 33-35. We will be breaking wood and busting out forms, weapons and self-defense for this very popular event in our own neighborhood!
No Classes Labor Day Weekend
We will be closed for Labor Day Weekend (Saturday August 31 & Monday Sept 2) Enjoy your holidays!
Testing
Block 1 testing is Friday August 30th (3 p.m. advanced / 5 p.m. beginners). Awards Ceremony 6:30 p.m.
June 23, 2019 |
News
|
Comments Off

on July & August 2019 Newsletter