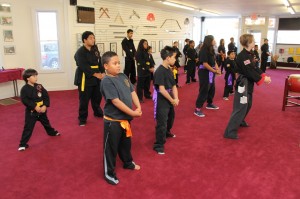 Welcome, Dragons! For those of you who enrolled and training at Rising Dragon we have several pages to help you in your pursuit of excellence in the Pai Lum — White Dragon Fist — styles of kung fu, kenpo, kickboxing and tai chi. The pages below will help you write your notebooks, remember names of techniques and what you learned in class, and assist you in practicing your Pai Lum martial arts outside of class.
Curriculum – This page has detailed information on your requirements for each level including fist sets, forms, and weapons, for each of our four disciplines.
Testing – Ready for your test? We have a checklist of everything you need to get ready including a checklist of what you need before your test, an explanation of the testing process, and the breakdown of testing fees.
Online Payments – Visit this page if you'd like to make an electronic payment for your monthly dues, association fees or a seminar.
Remember to follow our current news, calendar and upcoming events to stay up-to-date on all the special training opportunities available for you each month! Join our Facebook group to interact with your teachers and other students. That is a great place to bring up questions on training, history, or other related martial art events!
See you in the Kwoon (school) and remember to train as a warrior with spirit — train with Ha Na!