"Seek peace always, but if threatened then let the soul become a warrior."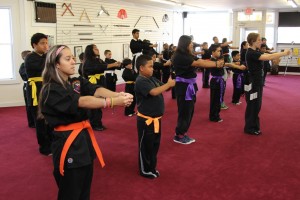 At Rising Dragon, we emphasize a code of values to our students for living life. Students learn by heart many important virtues like faith, love, honor and courage in order to become a warrior with compassion. Our Pai Lum family creed handed down by Grandmaster Pai states: "Seek peace always, but if threatened then let the soul become a warrior."
Teaching Our Youth
In our youth classes (ages 4-14), there are regular teachings on such values on telling the truth, courage to stand on your own values, dealing with bullies properly, leadership, persistence and many others — especially respect.
All students are expected to exemplify the discipline and respect they are taught in class by greeting their parents properly, showing respect to others, maintaining a clean room and chores, and helping others. Rising Dragon sends a letter home before any of our youth may test that asks the parents if they are displaying such behaviors at home and in life. If the parents say,'no,' then a student must wait for another month before testing to show improvement. Another letter is sent home then as well.
Values for All Students
The hard work and self-discipline that our martial arts program teaches are designed to help families in raising their children. Reinforcing such values is a very important part of training so that students are well balanced in life with a healthy body, a strong mind, effective social skills, and a spirit of courage, honor and respect!
View our Values Curriculum and Training Codes to see some of the value lessons we teach.