Sigung Steve Jungmann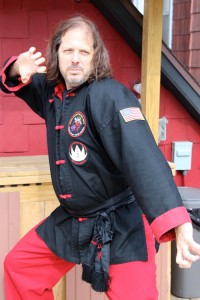 Sigung Steve Jungmann, head instructor of Rising Dragon Martial Arts, has been a martial artist for nearly three decades, earning his first black sash in 1990. He is a member of the United States Koushu Federation, The Pan Chinese Confederation of Martial Arts – Shaolin (registered master), and World Black Belt, Inc.
Among his numerous accomplishments are: Grand Champion Pai Lum Tao Black Belt Fighting (2008), Pai Lum International Tai Chi Forms Champion (2006), Grand Champion Continuous Fighting Walt Disney Martial Arts Tournament (2003), World Super Heavy Weight Lei Tai Full Contact Fighting Champion (2002), and Pai Lum International Weapons Champion (2001).
Sigung Steve opened his first school "White Dragon Martial Arts" in 1991. In 1998, the school moved to its current location, and became known as "Rising Dragon Martial Arts". He has shared his knowledge and training with thousands of students.
Sigung Melodie Jungmann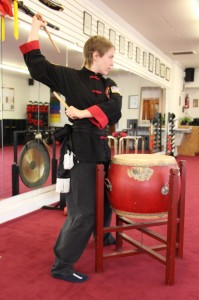 Sigung Melodie Jungmann has practiced Pai Lum uninterruptedly for the past 18 years. She currently holds a 4th degree black belt in Pai Lum Kung Fu, a 1st degree black belt in Pai Yang Tai Chi, as well as advanced and intermediate rank in Bok Leen Pai Kenpo and San Shou Kickboxing.
With plenty of experience in competition, Sigung Melodie has traveled over the U.S. to various state and national tournaments, winning several gold, silver, and bronze medals in Open Hand and Weapons Forms, Full Contact Lei Tai and San Shou Kickboxing (both women's and co-ed divisions), and Point Fighting. She has also helped other students win state trophies and medals in all divisions of forms and fighting.
Sigung Melodie loves to teach the art of Pai Lum, and enjoys the physical challenge of its intricate hand motions and demanding footwork as well as its practical application. She also believes in the importance of building a community among different schools and arts, taking on the role of Rising Dragon's ambassador by meeting with other teachers and practitioners of different styles both in the Milwaukee area and across the country.
Outside of teaching and training, Sigung Melodie enjoys spending time with her husband, Steve, their daughter, Lauren, and son, Callen. She enjoys traveling, creative cooking, and spending time with friends and family.
Sifu Tim Kern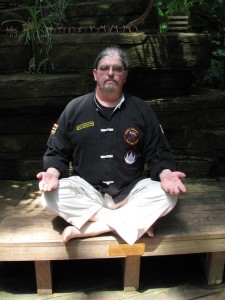 Sifu Timothy Kern is Senior T'ai Chi Ch'uan instructor at Rising Dragon Martial Arts. Sifu Tim has been training at Rising Dragon since 2006, attaining Black Higher Level 3 rank in 2018.
Sifu Tim tasted his first competitive victory at the 2007 Wisconsin State Pai Lum Tao Tournament, where he took first place in push-hands. In 2010, he was State Pai Lum Tao Champion in Black Belt T'ai Chi Forms, competing as a brown belt. Since then, he has won numerous medals and awards. Most recently, he was state champion in push-hands in 2014 and 2015.
Upon attaining Sifu level in 2012, Sifu Tim was given the name 'Tree Rising to Heaven' (Shêng, Ming-Shu) by his teacher, Sigung Steve Jungmann. Like his namesake the tree, Sifu Tim is passionate about growth. He is dedicated to helping people grow in mind, body, spirit, nature and culture.
In addition to his martial arts experience, a career spanning four decades in both the performing arts and the business world has given Sifu Tim unique insights into using ancient wisdom to help people struggling with modern day challenges: from stressed out executives and sedentary cubicle dwellers, to blocked writers, stuck artists and musicians in search of their groove.
Along with teaching regularly at Rising Dragon, Sifu Tim works with a local non-profit organization, teaching T'ai Chi to juvenile offenders and youth at risk. He is also available for private classes and group instruction. He can be reached at tim@sifutree.com.
When not on the training floor, Sifu Tim enjoys reading, programming, playing music, and spending time with his wife Iris, their kids and grand-kids, at their home near Milwaukee, Wisconsin.
Sifu Andrea Pankowski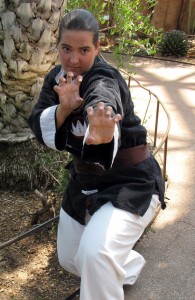 Sifu Andrea Pankowski has been training in martial arts with SiGung Jungmann and Rising Dragon since 2010. She holds two black sashes in our system; in Pai Yang Tai Chi, and also in Pai Lum Kung Fu.
During the 2010 and 2011 State Pai Lum Tournament, Sifu Andrea won first place trophies in the Adult Tai Chi Forms category, as well as silver and bronze medals in the Push Hands competition.
Sifu Andrea is enjoying her journey in martial arts and loves the new path into teaching. She is a lover of animals and has worked in the animal care business for 10+ years. She put those years to use by starting her own pet sitting business in 2011. She also loves art and creates hand-made jewelry for sale at arts and craft shows around the greater Milwaukee area.
Sifu Andrea looks forward to her continued training in martial arts with her husband Rick (who is working towards becoming a SiHing) and learning something new from each and every student that comes through the door of Rising Dragon Martial Arts!
Sifu Jon Odishoo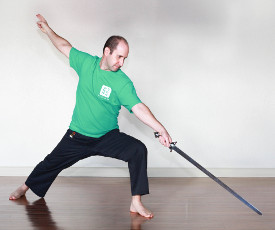 Sifu Jon Odishoo has been studying martial arts since 2009. He holds a Black Higher Level 2 rank in Pai Yang Tai Chi, a brown sash in Pai Lum Kung Fu, and became a registered yoga teacher (RYT-200) with YogaFit in January of 2021.
Sifu Jon has a long-held passion for teaching, which he was excited to finally tap into when he started his own school in 2015, "White Cobra Health Arts." For more information, visit his website at www.whitecobra.us.
Outside of the school, Sifu Jon works in the internet marketing field and enjoys building websites, biking, cooking, and spending time with his family.
Sifu Doug Bowman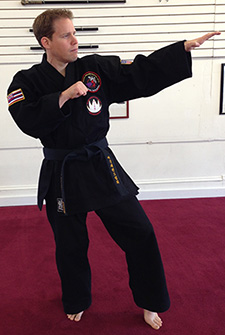 Sifu Doug has over 25 years of martial arts experience, mainly in the Korean art of Taekwondo, where he holds the rank of 5th degree Black Belt and Certified Instructor status in the ATA. He began his journey in Pai Lum in 2012 since he always wanted to learn a more traditional system. He currently holds a Black Higher Level 2 rank in Pai Yang Tai Chi and a gray sash in Pai Lum Kung Fu.
Sifu Doug has extensive experience and success in tournament competition where he has placed either first, second, or third over 100 times in his career, including at National and World level events. In the 2014 tournament circuit, he finished in the top ten in the world in 3 categories and finished as Wisconsin State Champion in all 8 competition categories ranging from traditional forms to extreme weapons.
Recently, Sifu Doug started his own martial arts school, "Be Martial Arts," in Mequon Wisconsin. Visit www.bemartialarts.com for more information!
Outside of martial arts, he spends time with his wife and two kids, playing guitar, and watching movies. During the day he works in the field of Information Technology Security and Controls.
Sifu Lauren Jungmann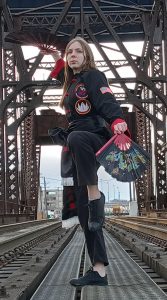 Sifu Elbert Lane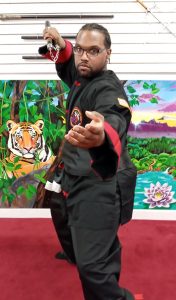 Sifu Elbert was born to the Chicago land area in the late 80's. He moved to Milwaukee at the age of thirteen and was introduced to the Pai Lum family with Sigung Steve in early 2012. After faithful study and hard practice he obtained his black sash in Pai Lum Kung Fu and the title of Sifu in 2021. Between the years of 2013-2020 he took first place in Chinese Wrestling and silver and bronze medals in weapons in the WLA State Tournaments. "What I love most about martial arts is gaining more knowledge about the kung fu system (Pai Lum) as I grow from Sihing to Sifu and passing it on to the next generation," he said.
When he is not training or working, Sifu Elbert enjoys cutting hair, cooking (having won several local cook-offs), baking pastries, and music production.