Adult & Youth Classes
Please note that all in-person classes have been suspended due to the state COVID-19 restrictions.
Visit our Online Classes page to see our online offerings during this time. Thanks for your patronage!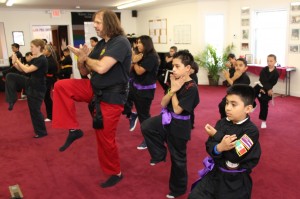 Adult classes aspire to help students learn in a friendly and professional manner amongst peers. Once a week on Saturday mornings there is also a family class for all ages so students may learn inter-generationally.
Youth classes teach students the same martial arts as the adults–just not the same quantity. Their classes also emphasize self-discipline, respect for oneself and others, focus, leadership, confidence and health as they learn to defend themselves against bullies.
| | |
| --- | --- |
| Pee Wee Dragons: | Ages 4-7 |
| Little Dragons: | Ages 8-11 |
| Junior Dragons: | Ages 12-15 |
| Adult Dragons: | Ages 16+ |
| Sparring & Tai Chi: | Ages 12+ |
| Family: | All Ages |

Ready to sign up? Visit our Join Us page to see how.
Full Schedule
Hours

Monday

Tuesday

Wednesday

Thursday

Friday

Saturday

Sunday

9:00 am

–

–

–

–

–

Tai Chi

–

10:00 am

–

–

–

–

–

Family (All Ages)

–

11:00 am

–

–

–

–

–

Kickboxing / Sparring 12+

–

12:00 pm

Adult

Tai Chi

Adult

–

–

–

–

4:30 pm

Pee Wee Dragons

–

Pee Wee Dragons

–

–

–

–

5:15 pm

Little Dragons

–

Little Dragons

–

–

–

–

5:30 pm

Kickboxing (Phoenix Room)

Adult

–

Adult

–

–

–

6:00 pm

Juniors & Little Dragons Advanced

–

Juniors & Little Dragons Advanced

–

–

–

–

6:30 pm

Junior Dragons

Adult Intermediate

Junior Dragons

Adult Intermediate

–

–

–

7:00 pm

–

–

Tai Chi

–

–

–

–