About Our School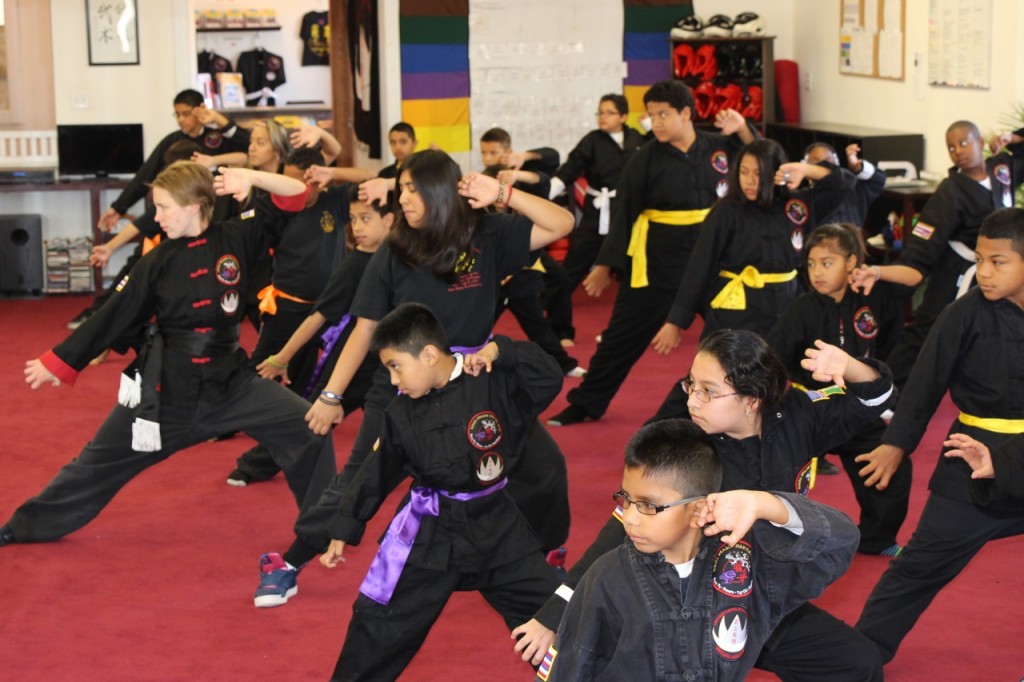 Rising Dragon Martial Arts teaches Pai Lum or "White Dragon", which includes four complete systems of self-defense and health training: White Dragon Kung Fu, White Lotus Kenpo, Pai Yang Tai Chi, and San Shou Kickboxing. While training students learn:
Self Defense
Health & Fitness
Self-Discipline
Stress Reduction
New Friends
Kung Fu & Kenpo
Rising Dragon teaches traditional Chinese Kung Fu and Kenpo including Southern and Northern Long Fist forms, iron palm, weapons, fist sets, sparring and drills.
We break our primary self defense classes (Kung Fu and Kenpo) into four age categories in order to help students get appropriate support from their teachers and peers. Pee Wee Dragons are ages 4-6, Little Dragons are ages 7-10, Junior Dragons are ages 11-14 and Adult Dragons are 15 and older. All the students learn the same material, just the quantity per rank is different. This is seen when all the dragons get together every Saturday morning for our inter-generational Family Class.
Tai Chi
Our primary health classes (Tai Chi) teach many internal aspects of Chinese martial arts including Yang Tai Chi and Chi Kung, temple exercises, yoga and stretching, Chakra vibrating, chi ball massage, and acupressure healing.
Tai Chi is generally embraced by our adults though we do allow students as young as 11 to train in tai chi. Many students enjoy training in both an external art (Kung Fu or Kenpo) along with the internal art (Tai Chi) in order to fuse internal and external power and health.
Kickboxing
San Shou is Chinese Kickboxing including striking (punches, kicks, elbows and knees), take down techniques, and ground fighting (from the Gracie Jujitsu system). Many students enjoy learning the kickboxing not for going into the ring (though our school has achieved several national and international championship fights) but for the cardiovascular work out and for fun.
Students can individually study kickboxing or may combine 2 or 3 of our arts with an unlimited training package at Rising Dragon Martial Arts. See Join Us for more information on costs of this or the individual training art programs.
More Info
Check our Class Schedule for a full list of classes at Rising Dragon Martial Arts.
Our school is a founding member of the White Lotus Association, an international organization that unites martial arts schools to training, fellowship, and through a code of ethics: love, faith, honor, courage, and being a "warrior with compassion."
Rising Dragon Martial Arts has been serving the community of Milwaukee since 1991. They have performed training for law enforcement agencies including the Milwaukee Police Department and FBI staff. They have performed demonstrations for such groups as National Nite Out, Asian Fest and Summerfest.