June 2020 Newsletter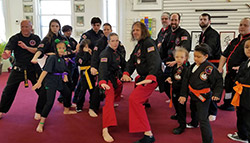 Hello Rising Dragon Martial Arts family! After 2 months we are finally returning to offering in-school classes. We will also continue the online training classes at the same time as we know from talking to many of you that more of you plan to return in July. In fact we plan to always offer online classes for students in the future alongside our in class training to help our students who live far away and for any future situations like this.
Very important – our schedule is returning to expanded full hours!! Classes that were 30 min now expand to 45 min, 60 min or up to 90 min. Here's the in-school and online training schedule for the rest of summer (July and August).
Monday
Noon: Adult Kung Fu (age 16+)
4:30 Pee Wee (age 4-7)
5:15 Little Dragons (age 8-11)
6:00 Junior Dragons (age 12-15)
Tuesday
Noon: Tai Chi
5:30 Adult Beginner-Advanced Kung Fu/Kenpo
(Intermediate and Advanced Little & Jr too)
Wednesday
Noon: Adult Kung Fu (age 16+)
4:30 Pee Wee (age 4-7)
5:15 Little Dragons (age 8-11)
6:00 Junior Dragons (age 12-15)
7:00 Tai Chi
Thursday
5:30 Adult Beginner-Advanced Kung Fu/Kenpo
(Intermediate and Advanced Little & Jr too)
Saturday
9:00 Tai Chi
10:00 Kung Fu Family Class (all ranks, ages and disciplines)
11:00 Kickboxing and Sparring
We look forward to students starting to come back in school in June and everything has been thoroughly scrubbed and sterilized and in addition we will be taking some measures of safety in-school such as limiting numbers to downstairs and upstairs, spacing more, and washing hands more often, etc. Even though we are returning to expanded hours we are still offering a significant discount for online classes. Normal in-school prices remain but we extended everyone the months you paid for. So if you had already paid for April and May, for example, and you paid online classes the last 2 months then you will receive June and July free.
If you choose to come back in the cost is $79 youth and $89 adults but of course the pay in advance discounts still apply so if you pay 3 months at a time the cost goes down to $63 youth and $73 adults. Further discounts with large month packages.
For online classes only we are still offering a flat discounted rate which with the expanded training hours and time will be $59 youth and $69 adults (2 nd and additional family members wishing to train will be $39 and $49 (adults) respectively. If you have already paid for months when you left and wish to use those as credits toward the summer online months from this point you can as well. So for example if you had already paid for April when we started online you can simply use that month to pay for June.
We want to work with everyone on financing so be sure to contact us if you are having trouble with costs as we know many people were not working the last couple of months. We are a family and do not want anyone to stop training because of financial difficulties. Call us and we will make arrangements for your continued training with further reductions or with helping us clean and work at the school.
This has been a season of challenge for all of us while we work to balance supporting our family and making it feasible for all our students to keep attending classes either online or now in class. Again remember we see the school as a second family and will work with you so that all can continue to join and practice Pai Lum!
We look forward to seeing you here or in the virtual training floor! Best wishes, peace and safety –
Sigungs Steve and Melodie and family
Here's what you need to do for online training:
1. Clear a training space in front of your computer or device so that you can practice the material. At least 10 square feet should work.
2. At the time of your class log on to www.bluejeans.com, click on Join Meeting, type in the ID 4143837727. You can also simply go to our home page of www.risingdragonmartialarts.com and there is a join now link on the top of the page which will instantly transport you to training.
3. Make sure your mic is muted.
4. Listen and follow the moves that we are teaching. Then practice them as we look at each of you.
5. Students are welcome to watch and practice the material from other age classes to help review or learn other things. However our focus of correcting will be only on those of the age group we are currently scheduled for. But in this way you can train 60 or even 90 minutes if you wish. You can also join the tai chi or other classes as you wish.
6. Saturday trainings remain free to the whole community. We invite you and your whole family and friends to join us for special "new" training as you will learn special forms, self defense and weapons.
May 31, 2020 |
News
|
Comments Off

on June 2020 Newsletter