November 2020 Newsletter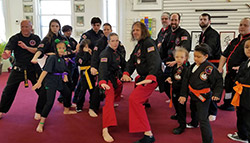 Black Belt Testing
Thursday Nov. 19-21 SiHing Elbert Lane will be undergoing his three day black belt test! Wish him well!
White Lotus Warrior Seminars
In conjunction with this special 3 day test there will be special seminars available to students:
Thursday 5:30 Free Seminar: White Swan Form (Free to all students / $15 to non-students) Sihing Elbert Lane
(Testing for Black Belt!)
Friday 5:30: Kama Form – $30 WLA members / $40 Nonmembers
Saturday 10:00 Special Training Class and Demonstration (Free)
11:00 Awards Ceremony (Free to all)
11:30 Drunken Monk Form – $30 WLA members /$40 Nonmembers
No Classes During Thanksgiving Break
We will be closed for Thanksgiving break on Thursday November 26 and Saturday November 28, 2020
New T-Shirts
Classic Rising Dragon T-shirts will be available while supply lasts. $20/shirt
Upcoming Events
Black Belt Testing (Sihing Elbert) – Nov. 19-21
Seminar – White Swan Form – Thurs Nov. 19 at 5:30 p.m.
Seminar – Kama Weapon Form – Friday Nov. 20 at 5:30 p.m.
Seminar – Drunken Monk – Saturday Nov. 20 at 11:30 a.m.
Thanksgiving Break – No classes Thurs Nov. 26 & Sat Nov. 28
Block 3 Focus
Week 1 (November 2-7): Basics
Week 2 (November 9-14): Forms
Week 3 (November 16-21): Fist Sets
Week 4 (November 25-28: Sparring
Online Training Classes
Here's what you need to do for online training:
Clear a training space in front of your computer or device so that you can practice the material. At least 10 square feet should work.
At the time of your class log on to www.bluejeans.com, click on Join Meeting, type in the ID 4143837727. You can also simply go to our home page of www.risingdragonmartialarts.com and there is a join now link on the top of the page which will instantly transport you to training.
Make sure your mic is muted.
Listen and follow the moves that we are teaching. Then practice them as we look at each of you.
Students are welcome to watch and practice the material from other age classes to help review or learn other things. However our focus of correcting will be only on those of the age group we are currently scheduled for. But in this way you can train 60 or even 90 minutes if you wish. You can also join the tai chi or other classes as you wish.
All students are asked to make a payment of $59 or $69 (adults) for this online class training for the month to support our school and family. Those with additional family members who are students are asked to pay an additional $39 for each one. Go to our home page and follow the link to online classes and you can make payment there at www.risingdragonmartialarts.com or just give us a call and we can process credit and debit cards over the phone at 414 383 7727.
Uniforms or proper t-shirts mandatory in school are encouraged but optional online.
Enjoy, exercise, learn and stay connected to your Rising Dragon family! We know in these uncertain times that it is all the more important to stay unified and connected, to find moments of joy and hope and to continue to become 'a warrior with compassion.'
Thanks to all our students who are our extended family – we look forward to seeing you on the online training floor!
Reduce Class Dues
Save up to $300 a year by making 3, 6 or 12 payments instead of monthly. And thank you for the support of our school and family!
Light scatters the dark and provides a path. Fear of the unknown becomes hope in the known. One who travels the path becomes enlightened the further one travels.
-Sigungs Steve and Melodie Jungmann
November 2, 2020 |
News
|
Comments Off

on November 2020 Newsletter