October 2020 Newsletter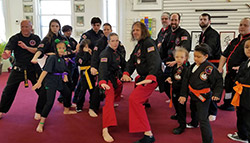 Rising Dragon Spooktacular Party
Wednesday October 28, 2020 at the Rising Dragon School
Over 20 years of screams of fear, delight and pain (hey, its martial arts!) — Super Scary Fun Games! Terrifying Tales! Martial Arts Themed Costume Awards. And Candy! Candy! Candy! Come dressed in some martial art themed costume (coming as weapon, a zombie warrior, one of the fighting animals, a re-breakable board, etc.). All this takes place during our "abnormal" business hours:
Pee Wee Dragons 4:30
Little Dragons 5:15
Junior Dragon 6:30
Don't be afraid adults…Ok, be afraid.
Testing
Friday October 30th Block 2 Testing (3 p.m. advanced / 5 p.m. beginners). Awards Ceremony 6:30 p.m
Ghost Technique Class
Learn the Pai Lum Ghost and Shadow techniques on Saturday, October 31 at 10 a.m.!
Upcoming Events
Spooktacular Party Wed. Oct 28 at 5 p.m. Awards 6:30
Testing Block 2 Friday October 30 at 5 p.m. Awards 6:30
Ghost Technique Class Saturday Oct. 31 at 10 a.m.
Block 2 Focus
Week 1 (Sept 28 – Oct 3): Weapons
Week 2 (October 5-10): Basics and Info
Week 3 (October 12-17): Forms and Fist Sets
Week 4 (October 19-24): Sparring and Weapons
Week 5 (Oct 26- 31): Review & Testing
Online Training Classes
Here's what you need to do for online training:
Clear a training space in front of your computer or device so that you can practice the material. At least 10 square feet should work.
At the time of your class log on to www.bluejeans.com, click on Join Meeting, type in the ID 4143837727. You can also simply go to our home page of www.risingdragonmartialarts.com and there is a join now link on the top of the page which will instantly transport you to training.
Make sure your mic is muted.
Listen and follow the moves that we are teaching. Then practice them as we look at each of you.
Students are welcome to watch and practice the material from other age classes to help review or learn other things. However our focus of correcting will be only on those of the age group we are currently scheduled for. But in this way you can train 60 or even 90 minutes if you wish. You can also join the tai chi or other classes as you wish.
All students are asked to make a payment of $59 or $69 (adults) for this online class training for the month to support our school and family. Those with additional family members who are students are asked to pay an additional $39 for each one. Go to our home page and follow the link to online classes and you can make payment there at www.risingdragonmartialarts.com or just give us a call and we can process credit and debit cards over the phone at 414 383 7727.
Uniforms or proper t-shirts mandatory in school are encouraged but optional online.
Enjoy, exercise, learn and stay connected to your Rising Dragon family! We know in these uncertain times that it is all the more important to stay unified and connected, to find moments of joy and hope and to continue to become 'a warrior with compassion.'
Thanks to all our students who are our extended family – we look forward to seeing you on the online training floor!
Reduce Class Dues
Save up to $300 a year by making 3, 6 or 12 payments instead of monthly. And thank you for the support of our school and family!
-Sigungs Steve and Melodie Jungmann
October 4, 2020 |
News
|
Comments Off

on October 2020 Newsletter