Sept & Oct 2019 Newsletter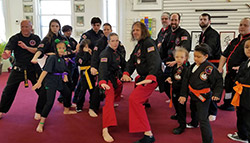 International Arts Demonstration
Saturday, September 7, 12 pm.-1:30 p.m. Rehearsal will be the same Saturday in the morning from 10-11:30 a.m. and the we walk (or drive) down 2 blocks and perform at the festival on National street between 33-35 streets. We will be performing on the street by our booth as well as on stage right after the Mayor's presentation. Come bust out forms, weapons and self-defense for this very popular event in our own neighborhood!
September Testing
Friday September 13, 2019 Block 1 Testing (3.m. advanced / 5 p.m. beginners) Awards Ceremony 6:30 p.m. Check with your teacher or your test invitation for more specifics.
Upcoming Events
International Arts Demo – Sat. Sept. 7 at 12 p.m. 33rd & National
Testing Block 1 – Friday Sept 13 at 5 p.m. Awards 6:30 p.m.
Business Meeting – Wednesday Sept 25 8 p.m.
White Lotus Week (Enjoy different teachers) – Oct 10-16
Spooktacular Party – Wed. Oct 30 at 5 p.m. Awards 6:30
Testing Block 2 – Friday Nov. 1 at 5 p.m. Awards 6:30
White Lotus Warrior Seminars – Nov. 22-24
Block 2 Focus
Week 1 (Sept 2-7): Basics
Week 2 (Sept 9-14): Forms
Week 3 (Sept 16-21): Fist Sets
Week 4 (Sept 23-28 ): Sparring
Week 1 (Sept 30 – Oct 5): Sparring
Week 2 (October 7-13): Weapons
Week 3 (October 14-20): Basics and Info
Week 4 (October 21-27): Forms and Fist Sets
Week 5 (Oct 28- Nov 2): Review & Testing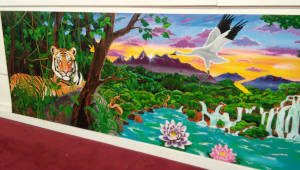 Reduce Your Class Dues
Save up to $300 a year by making 3, 6 or 12 payments instead of monthly. Yearly payments equals paying for 9 months and getting 3 free months! Also a reminder that payments are due on the 1st of the month. Late fees are accessed after the 5th and 10th of a month that fees are due. Thank you for the support of our school and family!
Rising Dragon Spooktacular Party
Wednesday October 30, 2019 at the Rising Dragon School. Over 20 years of screams of fear, delight and pain (hey, its martial arts!) — Super Scary Fun Games! Terrifying Tales! Martial Arts Themed Costume Awards. And Candy! Candy! Candy! Come dressed in some martial art themed costume (coming as weapon, a zombie warrior, one of the fighting animals, a re-breakable board, etc.) All this takes place during our "abnormal" business hours:
Pee Wee Dragons 4:30
Little Dragons 5:30
Junior Dragon 6:30
Week of the White Lotus #2
Thursday October 10- Wednesday October 16 get a chance to see many of our different teachers from the White Lotus Association in action as they lead the class time with unique views on Pai Lum, teaching styles and varying martial arts history. Some of the teachers you'll get to meet this week include Sifu Jon, Sifu Tim, Sihings Elbert, David and Lauren.
November Testing
Friday November 1th Block 2 Testing (3 p.m. advanced / 5 p.m. beginners). Awards Ceremony 6:30 p.m
White Lotus Warrior Seminars
November 22-24, 2019
Special Guest Teacher – Sigung Jeff Sindy from Nashville, Tennessee
Thursday 5:30 Free Seminar "TBA" by SiHing Lauren Jungmann (Testing for her Black Belt!)
Friday 5:30 "Nunchaku Basic Form"
Saturday 10:00 Special Training Class (Free)
11:00 Awards Ceremony
11:30 "Nunchaku Fury Form"
Come learn the fun and powerful weapon "Nunchuks" from Sigung Jeff Sindy. More information to come soon!
September 2, 2019 |
News
|
Comments Off

on Sept & Oct 2019 Newsletter