April 2020 Newsletter
Online Training
Hello Rising Dragon Martial Arts family! The month of April brings you special training online! The schedule below will bring you the normal age classes we do at slightly altered times. You can access these online classes by going on your internet device (computer, phone, tablet, etc.) to www.bluejeans.com. There in the upper right of their home page click on Join Meeting. That will take you to a screen that has a place to type in Meeting ID. Type in our phone number: 4143837727 and that will take you to our Live classes online.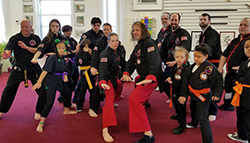 Monday
4:30 Pee Wee
5:00 Little
5:30 Junior and Adult Kung Fu/Kenpo
Tuesday
4:30 Tai Chi
5:15 Intermediate and Advanced Kung Fu/Kenpo
Wednesday
4:30 Pee Wee
5:00 Little
5:30 Junior and Adult Kung Fu/Kenpo
Thursday
4:30 Tai Chi
5:15 Intermediate and Advanced Kung Fu/Kenpo
Saturday
10:00 Family Class (all ranks, ages and disciplines)
11:00 Kickboxing Aerobics
Pee Wee Dragons Ages 4-7
Little Dragons Ages 8-11
Junior & Adult Ages 12+
Intermediate Ages 8+ Purple and Higher
We are trying to arrange that when you log on your mic is muted. We ask you to keep it mute otherwise it changes the screen to your picture (if you have a camera on your internet device) and your voice or the noise of your background will come through the presentation.
We will be teaching your material for your next test (May I, 2020 still) of learning with an opportunity to practice that we can see you (if you have a camera) and make comments. If you understand the material we ask you to make 2 thumbs up sign. If you don't make 2 thumbs down sign. Those who have thumbs down we will ask you to unmute your mic and ask the question or comment you have.
In this way everyone can learn without the chaos of interruptions.
There may be some technical difficulties this first week or so, so please be patient as this is our first time doing this and we may have to work out a few glitches.
Here's what you need to do:
1. Clear a training space in front of your computer or device so that you can practice the material. At least 10 square feet should work.
2. At the time of your class log on to www.bluejeans.com, click on Join Meeting, type in the ID 4143837727.
3. Make sure your mic is muted.
4. Listen and follow the moves that we are teaching. Then practice them as we look at each of you.
5. Classes will be only about 25 minutes but students are welcome to watch and practice the material from other age classes to help review or learn other things. However our focus of correcting will be only on those of the age group we are currently scheduled for. But in this way you can train 60 or even 90 minutes if you wish. You can also join the tai chi or other classes as you wish.
6. Saturday trainings are free to the whole community. We invite you and your whole family and friends to join us for special "new" training as you will learn special forms, self defense and weapons. Then at 11 will be a 25 minute aerobic kickboxing class!
7. All students are asked to make a $39 payment for this online class training for this month to support our school and family. Those with additional family members who are students are asked to pay an additional $19 for each one. Click here to make an online payment or just give us a call and we can process credit and debit cards over the phone at 414 383 7727.
8. Be sure to wear your uniform. Just kidding.
9. Enjoy, exercise, learn and stay connected to your Rising Dragon family! We know in these uncertain times that it is all the more important to stay unified and connected, to find moments of joy and hope and to continue to become 'a warrior with compassion.'
Thanks to all our students who are our extended family – we look forward to seeing you on the online training floor!
Sigungs Steve and Melodie Jungmann
No Classes Easter Weekend
There will be no classes held at Rising Dragon for Easter/Resurrection Weekend. So no classes Saturday April 11, 2020. Have a blessed celebration for those who practice such faith!
Testing
Friday May 1 at 5 p.m. Awards Ceremony 6:30 p.m. Higher rank testing will start earlier usually around 3 p.m. but check with your teacher or your test invitation. Hopefully we will be back in normal classes by April 25 (the Wisconsin mandate is scheduled to have ended by this date).
March 29, 2020 |
News
|
Comments Off

on April 2020 Newsletter