August 2022 Newsletter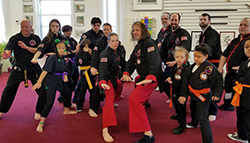 New Brochures and New Pricing Options!
We are proud that we have maintained costs for over 30 years with only 3 small price increases about 1/10 years. At this time due to rising costs in our economy we are again making a small price increase to maintain our business and services at Rising Dragon Martial Arts. We will continue to seek to provide one of the best martial arts at one of the most reasonable prices in all Milwaukee and surrounding area.
In view of this we are offering our students two options to maintain their current rate as well:
During the next month (August 2022) a student can purchase as many months as they want (generally 1,3,6 or 12 months) at the current rate structure. This will tag on to the end of when your current months expire.
You can switch to automatic monthly payments if you provide us a credit card in which on the first of every month you will be charged according to our old payment rate. The caveat is that you must agree to continue payments for 2 more months after indicating you would like to stop classes. So as long as you let us know two months prior to leaving, this should not have any impact on your training goals and receiving all paid classes. Our new brochures this month have the updated costs and go into effect on September 1, 2022. As always we appreciate your support and helping keep our family business serving Milwaukee for another 31 years!
Mexican Fiesta Demonstration
Saturday August 27, (time tba)2022 Rising Dragon Martial Arts students can perform at Mexican Fiesta held at Maier Park sports stage. Students will get a free ticket and at least one additional ticket for a family member to enter. We will be rehearsing Thursday at 5:30 on the 25th and Saturday morning at 10 (the 26th)
Testing
Friday August 26 at 5 p.m. Awards Ceremony 6:30 p.m. Higher rank testing will start earlier usually around 3 p.m.
No Classes Labor Day Weekend
There are no classes Saturday September 3 or Monday September 5. Happy Labor Day weekend!
Block 1 Focus
Week 1 (August 1-6): Weapons
Week 2 (August 8-13): Sparring & Info
Week 3 (August 15-20): Fist Sets & Forms
Week 4 (August 22-27) Review and Testing
Upcoming Events
Saturday July 16 11 a.m. at RD School
Testing Block 1 Friday August 26 5 p.m. Awards 6:30
Silver City Demo Sat Sept 10 at 12:15 p.m TBD
-Sigungs Steve and Melodie Jungmann
August 12, 2022 |
News
|
Comments Off

on August 2022 Newsletter