December 2020 Newsletter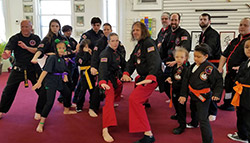 Testing Block 3
Friday December 19th Block 3 Testing (3 p.m. advanced / 5 p.m. beginners). Awards Ceremony 6:00 p.m
Winter Warrior Seminars, January 14-16, 2021
Thursday 5:30 Free Seminar: White Swan Form (Free to all students / $15 to non-students) Sihing Elbert Lane (Testing for Black Belt!)
Friday 5:30: Kama Weapon Form – $30 WLA members / $40 Nonmembers
Saturday 10:00 Special Training Class and Demonstration (Free)
11:00 Awards Ceremony (Free to all)
11:30 Drunken Monk Form – $30 WLA members /$40 Nonmembers
Special: All 3 seminars for $50 and receive ½ off on a pair of kamas (only $19)!
Christmas and New Year's Break
We will be closed for Christmas break on Wednesday, Dec 23 through Saturday December 26, 2020. We will be closed on Monday, December 31 and on January 1 for New Year's Eve and New Year's Day!
Special Deals for Christmas and New Year's
All new sign ups during the month of December will receive a free uniform ($60 value). A new uniform makes a great present under the tree and martial art classes for health and protection are a great way to kick off the new year!
Upcoming Events
Testing Friday December 19: Test 5 p.m. Awards at 6 p.m.
Christmas/New Year Break No classes Dec. 23-26 & 30th-Jan 1
Seminars January 14-16: Thurs Nov. 19 5:30 p.m. White Swan form
Friday Nov 20 5:30 Kama Weapon Form / Sat. Drunken Monk 11:30
Block 3 Focus
Week 1 (December 1-5): Weapons & Info
Week 2 (December 7-12): Forms & Defense
Week 3 (December 14-19): Review and Test
Week 4 (December 21-29): Sparring
Why do you want your child to learn Martial Arts?
Parent – "I want them to gain discipline and confidence"
Teacher to Parent "Then here are the things you, as the parent, need to know and follow no matter what:
You must be consistent bringing your child to class. Schedule your Kung Fu days and move things around them so your child does not miss classes or attend sporadically. Why? Because discipline and confidence come from doing structured things, not random things.
When training gets tough and your child doesn't want to go to class because it's not "fun" you will tell them "get your uniform and let's go" no matter what. Why? Because you can't build discipline on your schedule, only doing what you want when you want. You also can't build confidence by avoiding things that are hard to do or tough. Only by failing and then overcoming that failure can you grow confident. It is not easy but it is worth it.
When your child loses interest (which comes and goes by the way) you will say "Get your uniform and let's go." Allowing your child to just give up something because they have lost interest leads to teaching them how to be a failure in life. Teaching your child the value of commitment and seeing things through is part of the discipline process. The loss of interest in kids happens but then they wish they wouldn't have "quit". Teach your child not to be a quitter.
You aren't committing to attend Kung Fu. You are committing to get good at Kung Fu and earn your black belt. When your child wants to quit you will say "Are you a black belt yet?" and then say "Get your uniform and let's go". Children who see their training through to black belt will learn what it means to truly earn something which builds confidence and discipline. This will be invaluable in their lives as they grow into adulthood (going off to college, new jobs and more).
Martial Arts will build confidence, discipline, focus and more BUT you have to be committed to it no matter what. You can't just show up when you want and expect your child to gain from it. It takes work so teach your child the value of working hard. When you, the parent, are involved in their training they grow strong in their confidence and discipline. Don't be "that parent" that just lets their kid start and quit things. Get them to the school and watch them develop strong, focused, driven and confident so that they can have a great life!
Things to remember from the desk of your sifu….
(reprinted from a post on facebook)
-Sigungs Steve and Melodie Jungmann
December 1, 2020 |
News
|
Comments Off

on December 2020 Newsletter