Jan & Feb 2021 Newsletter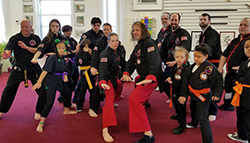 Winter Warrior Seminars, January 14-16, 2021
Thursday 5:30 Free Seminar: White Swan Form (Free to all students / $15 to non-students) Sihing Elbert Lane (Testing for Black Belt!)
Friday 5:30: Kama Weapon Form – $30 WLA members / $40 Nonmembers
Saturday 10:00 Special Training Class and Demonstration (Free)
11:00 Awards Ceremony (Free to all)
11:30 Drunken Monk Form – $30 WLA members /$40 Nonmembers
Special: All 3 seminars for $50 and receive ½ off on a pair of kamas (only $19)!
Christmas and New Year's Break
We will be closed for Christmas break on Wednesday, Dec 23 through Saturday December 26, 2020. We will be closed on Thursday December 31 through Saturday January 2 for New Year's Weekend.
Class Fees and Dues
For over 15 years we are proud at Rising Dragon to have not changed prices – and we will be offering the same prices
this year of 2021 with a 5% tax on services (merchandise remains at 5.5% tax by state law).
2021 Student Special
Kick off the new year with a new you training at Rising Dragon Martial Arts. This starter special gives you a free
uniform ($60 value) with any new signup! This offer runs from Dec 11, 2020 to January 11, 2021.
Teacher Seminar Coming
Friday February 19 from  5-9 p.m. All blue and higher belts and sihings wanting to be an instructor and/or improve and renew their teaching skills must not miss this annual special seminar. Cost is $15 and includes teaching, supplies, and pizza dinner and dessert. Instructor manuals are available for $40.
Testing
Friday  February 26 – Block 1 Testing (3 p.m. advanced / 5 p.m. beginners). Awards Ceremony 6:00 p.m.
Students remember to turn your books in the week before, have all patches on your uniform and make payment prior to testing.
Upcoming Events
 New Year Break – No classes Thurs. Dec 31 thru Sat. Jan 2
Seminars January 14-16: Thurs 5:30 p.m. White Swan form, Friday 5:30 Kama Weapon Form / Sat. Drunken Monk 11:30
Teacher Seminar – Friday Feb 19  at 5 p.m.
Testing Block 1 – Friday February 26 at 5 p.m.  Awards 6:00
Block 3 Focus
Week 1 (January 4-9): Basics
Week 2 (January 11-16): Forms
Week 3 (January 18-23): Fist Sets
Week 4 (January 25-30): Sparring
Week 1  (February 1-6): Weapons and Info
Week 2  (February 8-13): Forms and Fist Sets
Week 3  (February 15-20): Review and Testing
Week 4 (February 24-29): Sparring
-Sigungs Steve and Melodie Jungmann
December 26, 2020 |
News
|
Comments Off

on Jan & Feb 2021 Newsletter