Jan & Feb 2023 Newsletter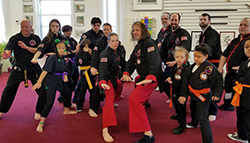 Lost and Found
The year is at end and anything in lost and found must be claimed by January 10 or it will be forever lost!
New classes (free) Mondays noon
Rising Dragon is offering an extra kung fu/kenpo class for our expanding adult students from 12 (noon) to 1 p.m. every Monday starting Monday January 9! Students can also come late to class and/or leave early as needed for work during this lunch time opportunity. Uniforms are also optional. This additional class is free to adults!
Photo Challenge!
2023 Photo challenge: In your student manuals, on the backside of each cardstock page are 6 photo requests (like a scavenger hunt – you have to use your phone or camara to snap and get these pictures). Anyone who completes all 15 of 18 photos during 2023 will receive a $15 Gift Certificate for the proshop! Anyone completing all 18 photos will receive a $25 gift certificate! Snap to it and get snapping!
Watch 'Tai Chi Moments'
Follow our Rising Dragon Facebook page to get a 5 minute tai chi lesson every week from Sigung Steve Jungmann or Sifu Tim Kern. There are already about 25 lessons if you back track on the news and a new one each week around Thursday. These are for all members of your family, not just students. They are simple and direct lessons that will help you improve your energy, burn calories faster, reduce lower back pain, reduce stress, improve your balance, improve your breathing and provide you with ancient healing skills for many ailments. Tai Chi is so documented to be effective in all these areas.
White Lotus Winter Seminars Friday February 17th and Saturday February 18th 2023
Friday 17th 5:30 Chi Kung 7 ($30) (Sifu Doug) Saturday 18th 9 Standing Tree Meditation (free)
6:30 Prayer Hand Self Defense ($30) (Sigung Steve) 10 Seminar TBD (free)
11 Iron Fan Form ($30)( Sigung Mel)
Friday Seminars will be at Be Martial Arts (11122B N Cedarburg Rd, Mequon, WI 53092
Saturday Seminars will be at Rising Dragon Martial Arts (3429 W. Greenfield Ave., Milwaukee, WI 53215)
Special: All 3 paid seminars for only $75
Special with Iron Fan Seminar: 20% off wood and metal fans
Testing
Friday February 24th Block 1 Testing (3 p.m. advanced / 5 p.m. beginners). Awards Ceremony 6:00 p.m
Be sure all books turned in at least 3 days before test along with payment. Full uniform with patches worn!
The Dragon Breath (Beatitude Series Continuing)
"The fourth of eight Beatitudes from Jesus (from his famous Sermon on the Mount found in Matthew chapter 5: 1-11) says, "Blessed are those who hunger and thirst for righteousness, for they will be filled." Right away this reminds me of our White Lotus code #1: 'Faith – I will seek internal virtues above temporary values.' But by using the words 'hunger and thirst' he places high value on the intensity of wanting and pursuing righteousness. Few things can ache more than when one is truly hungry or thirsty.
And what is this righteousness that we are to ache so much for? In our White Lotus terms it means hungering for virtues such as love, peace, patience, kindness, goodness, self-control, etc. These impact ourselves and others. The righteousness we thirst for ultimately means desperately desiring right relations with others. Jesus speaks of loving God as foremost and first purpose of life – being at peace with Him… "so as the deer pants for water, my soul thirsts for the living God. Secondly this means being in right relations with others – with no outstanding grudges, anger or malice – but rather harmony, forgiveness, and brotherly love towards all other people. And the promise from Jesus is: if we truly hunger and thirst for such relationships, He will bless us by filling us with them.
Upcoming Events
New Year Break – No classes Sat. December 31
Winter Warrior Seminars: Feb 18 Friday 5:30-7:30 and Feb 19 Saturday 10 a.m to 12
Testing Block 1 – Friday February 24 at 5 p.m. Awards 6:00
Block 3 Focus
Week 1 (January 2-7): Basics
Week 2 (January 9-13): Forms
Week 3 (January 16-21): Fist Sets
Week 4 (January 23-28): Sparring
Week 1 (Jan 30 – Feb 4): Weapons and Info
Week 2 (February 6-11): Forms and Fist Sets
Week 3 (February 13-18): Sparring
Week 4 (February 20-25): Review and Testing
Reduce Class Dues
Save up to $300 a year by making 3, 6 or 12 payments instead of monthly. And thank you for the support of our school and family!
December 30, 2022 |
Uncategorized
|
Comments Off

on Jan & Feb 2023 Newsletter