January & February 2022 Newsletter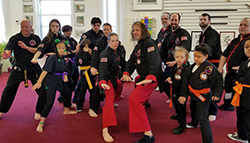 Lost and Found
The year is at end and anything in lost and found must be claimed by January 10 or it will be forever lost!
Winter Warrior Weapon Seminars February 17 and 19, 2022
Thursday
5:30 Free Seminar: Silent Dragon Stick Form (Free to all students / $15 to non-students) Sigung Mel
6:30 Shaolin Saber form $30 WLA members / $40 Nonmembers Sigung Steve
Saturday
10:00 Special Dagger Defense Class (Free to students / $15 to non-students) Sigung Steve
11:00 Sai Weapon Form $30 WLA members /$40 Nonmembers Sigung Melodie
Special: Both seminars for $50 ½ off on a pair of sais (when registered by February 1, 2022)
All Seminars are at Rising Dragon Martial Arts 3429 W. Greenfield 414 383 7727
Watch 'Tai Chi Moments'
Follow our Rising Dragon Facebook page to get a 5 minute tai chi lesson every week from Sigung Steve Jungmann or Sifu Tim Kern. There are already about 10 lessons if you back track on the news and a new one each week around Thursday. These are for all members of your family, not just students. They are simple and direct lessons that will help you improve your energy, burn calories faster, reduce lower back pain, reduce stress, improve your balance, improve your breathing and provide you with ancient healing skills for many ailments. Tai Chi is so documented to be effective in all these areas.
Testing
Friday February 25 Block 1 Testing (3 p.m. advanced / 5 p.m. beginners). Awards Ceremony 6:00 p.m
Desk of the Rising Dragon
"Blessed are the peacemakers," Jesus said. That is one of the main goals, ironically as it may appear, of martial arts. Certainly it follows our mission statement of being a 'Warrior with Compassion.' It fits in with our White Lotus code to "seek peace and help all in need." It may seem strange that peace can come from the marital or 'fighting' arts. But to defend ones family and other is being a peace maker for them. And often martial arts teaches to do less than what the opponent is trying to do to you. If they are trying to kill you, cripple them. If they are trying to cripple you, subdue them. If they are trying to subdue you, wound them. If they try to wound you, counter them without injury. If they try to insult you, turn the other cheek. Rising Dragon students hope and seek to have compassion in these ways that offer the opponent a chance to consider the mercy and turn from the grievous efforts and find peace.
Upcoming Events
Winter Warrior Seminars: Feb 17 Thursday 5:30-7:30, Feb 19 Saturday 10 a.m to 12
Testing Block 1 Friday February 25 at 5 p.m. Awards 6:00
Block 1 Focus
Week 1 (January 3-8): Basics
Week 2 (January 10-15): Forms
Week 3 (January 17-22): Fist Sets
Week 4 (January 24-29): Sparring
Week 1 (February 1-5): Weapons and Info
Week 2 (February 7-12): Forms and Fist Sets
Week 3 (February 14-19): Sparring
Week 4 (February 21-26): Review and Testing
-Sigungs Steve and Melodie Jungmann
January 10, 2022 |
News
|
Comments Off

on January & February 2022 Newsletter