July & August 2021 Newsletter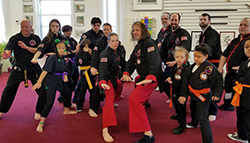 Seminar: Eagle Claw Joint Lock Form
Come learn and experience the power of Chi Na – controlling other people by locks of bone and separation of muscle and pressure points on the nerve system (meridians). This is a fun, fantastic and effectual Two – Person form (you do this with a partner). You will learn a dozen different ways to lock and hold people with in-depth teaching on each technique. Because of the depth and difficulty of this material the form will be broken into 2 seminars: part 1 on Saturday July 31 from 11 a.m. to 12:30 and part 2 on Saturday (September 11) at the same time.
Eagle Claw Form pt 1 – Non Members: $35 White Lotus Members: $25
Eagle Claw Form pt 2 – Non Members: $35 White Lotus Members: $25
Special: – Buy Parts 1 & 2 – Non Members: $60 White Lotus Members: $40
Sign up and pay at Rising Dragon School or register 414 383 7277.
No Classes Saturday July 3
Enjoy the Fourth of July Weekend with family and friends!
Reduce Your Class Dues
Save up to $300 a year by making 3, 6 or 12 payments instead of monthly. Yearly payments equals paying for 9 months and getting 3 free months! Also a reminder that payments are due on the 1st of the month. Late fees are accessed after the 5th and 10th of a month that fees are due. Thank you for the support of our school and family!
Testing
Friday August 27 at 5 p.m.
Awards Ceremony 6:30 p.m.
Higher rank testing will start earlier usually around 3 p.m.
Silver City Demonstration
TBD in September we will perform at the Festival between 33 and 35th streets on National Ave.
Upcoming Events
No Classes Saturday July 3 – Independence Celebration
Seminar: Eagle Claw Joint Lock Form – Saturday July 31st at 11 a.m. at RD School
Testing Block 1 – Friday August 27 5 p.m. Awards 6:30
Block 1 Focus
Week 1 (June 28 – July 3): Basics
Week 2 (July 5 – 10): Forms
Week 3 (July 12 -17): Sparring
Week 4 (July 19 – 24): Fist Sets
Week 5 (July 26 – 31): Weapons & Info
Week 1 (August 2 – 7): Basics & Forms
Week 2 (August 9– 14): Sparring & Info
Week 3 (August 16-21): Fist Sets & Weapons
Week 4 (August 23-28) Review and Testing
-Sigungs Steve and Melodie Jungmann
June 29, 2021 |
News
|
Comments Off

on July & August 2021 Newsletter