July & August 2023 Newsletter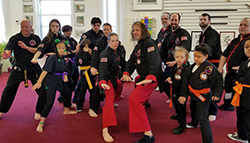 Two New Shirts!
We have a brand new shirt color – Neon Yellow on Black in our Classic Logo Rising Dragon Shirt ($25) and we have in honor of 10th anniversary since we rebuilt the building (after a fire) – The unique Rising from the Ashes 2013-2023 T-shirt with a unique 4 color design ($30). Get one as supplies last. These will likely not be made again for another 10 years. Get on the Dragon wagon and sport inside class and outside these new designs and colors.
The Dragon Breath (Beatitude Series Continuing)
"The seventh of eight Beatitudes from Jesus (from his famous Sermon on the Mount found in Matthew chapter 5: 1-11) says, "Blessed are the peacemakers for they shall be called sons of God." God is ever seeking to make peace with us, even though we are the ones who rebelled against him. He wants us in a restored relationship with Him. For this cause Jesus came when He said, "My peace I give to you." just before he went to the cross (John 14:27).
We are doing His will when making peace with others with Him and with each other. Is there a greater thing to do? Should not the children be like the Father?
Our martial art is not about fighting though we learn those skills. It's really about making peace. The students are often taught to be a 'Warrior with Compassion' – to choose only to protect themselves and not hurt others unless necessary. They are strongly encouraged to make peace by talking with others, turning their cheeks from insults, and refraining from language and behavior that promotes fights. They are to be respectful, honorable, courageous, kind. Warriors of virtue on the inside. From the very first block of material in Pai Lum they learn to bow (show respect). And from the very first block of training they learn the code: "Seek peace always, but if threatened, then let the soul become a warrior." With whom and how can I be a peacemaker today?
Mexican Fiesta Demonstration
Saturday August 26, 2023 Rising Dragon Martial Arts will be performing on the Sports Stage at Mexican Fiesta! All performers will receive a free ticket to get in to the festival. There will be a rehearsal Thursday August 24 at 5:30 p.m. and a rehearsal on Saturday morning at 10 a.m. before the 12:30 performance. Students must make at least one of these rehearsals to perform – but are strongly encouraged to make both rehearsals.
Testing
Friday August 25 at 5 p.m. Awards Ceremony at 6:30 p.m. Higher rank testing will start earlier usually around 3 p.m.
No Classes Labor Day Weekend
There are no classes Saturday September 2 or Monday September 4. Happy Labor Day weekend!
Silver City Demonstration
Saturday September 9th 2023 Rising Dragon Martial Arts students can perform at the Silver City festival held at Arlington Park (Pierce and 35th street). We will have a demo rehearsal that morning from 10-11:30 a.m. and then students can walk (or drive) the 2 blocks over to the park. Our demonstration is near the main stage at 12:15 pm.
Block 1 Focus
Week 1 (July 3-8): Basics
Week 2 (July 10-15): Forms
Week 3 (July 17-22): Sparring
Week 4 (July 24-29): Fist Sets
Week 1 (August 1-5): Weapons
Week 2 (August 7-12): Sparring & Info
Week 3 (August 14-19): Fist Sets & Forms
Week 4 (August 21-26) Review and Testing
Upcoming Events
No Classes July 3 & 4 (Monday & Tuesday) for Independence Celebration
Mexican Fiesta Demo Sat Aug 16 at Maier Park Sports Stage
Demo Rehearsals Thursday August 24 5:30 pm. and Saturday August 26 at 10 a.m.
Testing: Friday August 25 at 5 p.m. – Awards at 6 p.m.
Silver City Demo – Sat Sept 9 at 12:15 p.m at 33rd & National
No Classes Labor Day Weekend – Sat Sept 2 & Monday Sept 4
July 13, 2023 |
News
|
Comments Off

on July & August 2023 Newsletter