March & April 2021 Newsletter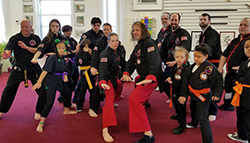 White Lotus Tournament Applications Available Now
Several local schools are planning to join us for our annual state tournament held right here at our school – this is a perfect time for students to meet students from other schools, compete for fun and trophies, make new friends, test out your current skills and all in all participate in something unique, exciting, and help us practice being 'warriors with compassion.' See more about the tournament under the April news. The tournament is May 22 2021, but applications are available now and if you turn them in by April 28 you get a discount on the tournament. Also make sure your White Lotus Membership is up to date so you get an additional 25% discount on the tournament!
Monthly Meditation
As we see the approach of our upcoming tournament I am reminded of many past surprises – the smaller person winning, the lower rank winning, the sure bet champion losing. Once at the international Chinese Koushu Federation tournament in Baltimore I had a teacher come up to me before one of my full contact fights where I was facing the undefeated champion from two years back. My teacher insisted that I must proclaim out loud that I was going to win if I wanted to win. But what he saw as confidence, I regarded as arrogance. Despite his insistence I would only say that I don't know who will win but will do my best. I had heard that the prior champion had bragged to his student that he was going to take out that tall spindly fighter (me). However, one of our Pai Lum formulas teaches: "Do not assume skill based on appearance." I focused on the job at hand, did my best, and ended up winning that fight in two rounds.
This wisdom does not only apply to tournaments or fights, but to life. How often we judge people based on their size or the color of skin or gender or age or the clothes they wear or which community they came out of? The world teaches many biases and we should be aware of our own so we don't follow such a shallow world view as judging by what is outside. Fortunately I had learned this lesson early in life from a Bible verse and I share it with you: "The Lord does not look at the things man looks at — man looks on the outward appearance, but God looks at the heart" (I Samuel 16:7).
White Lotus Spring Tournament
Saturday May 22 at Rising Dragon Martial Arts (3429 W. Greenfield Milwaukee) from 9 a.m. – 12 p.m.
It's finally here – our local state tournament among the White Lotus Association schools. This is an open tournament and other schools are welcome too! Categories for completion this year are:
Forms: External, Internal, Weapons
(Kung Fu, Kenpo, Tae Kwon Do) (Tai Chi) (External/Internal)
Sparring: Point Fighting, Push Hands, Chinese Wrestling
Non-Member Costs: 1 event: $40 + $15 each additional event. Specials: 3 events 60 or 6 events $80
White Lotus Member Costs: 1 event: $30 + $10- each additional event. Specials: 3 events $45 or 6 events $60
$10 discount if registered by April 24, 2021 $5 discount if registered by May 8, 2021
Applications available at WLA schools
No Classes Easter Weekend
There will be no classes held at Rising Dragon for Easter/Resurrection Weekend. So no classes Saturday April 3, 2021. Have a blessed celebration for those who practice such faith!
Testing
Friday April 30 at 5 p.m. Awards Ceremony 6:00 p.m. Higher rank testing will start earlier usually around 3 p.m. but check with your teacher or your test invitation.
Upcoming Events
No Classes – Saturday April 3 for Resurrection weekend
Testing Block 2 – Friday April 30 at 5 p.m.  Awards 6
White Lotus Tournament – Saturday May 22 9am–Noon at Rising Dragon Martial Arts 3429 W. Greenfield Ave.
Block 3 Focus
Week 1 (March 1-6): Basics
Week 2 (March 8-13): Forms
Week 3 (March 15-20): Fist Sets
Week 4 (March 22-27): Sparring
Week 5 (Mar 29–Apr 3): Weapons
Week 1 (April 5-10): Forms and Info
Week 2 (April 12-17): Fist Sets and Weapons
Week 3 (April 19-24): Sparring
Week 4 (April 26-30): Review and Testing
-Sigungs Steve and Melodie Jungmann
March 1, 2021 |
News
|
Comments Off

on March & April 2021 Newsletter