May & June 2021 Newsletter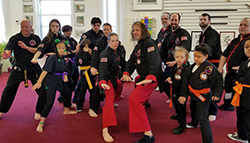 White Lotus Spring Tournament
Saturday May 22 at Rising Dragon Martial Arts (3429 W. Greenfield Milwaukee) from 9 a.m. – 12 p.m.
It's finally here – our local state tournament among the White Lotus Association schools. This is an open tournament and other schools are welcome too! Categories for competition this year are:
Forms: External Internal Weapons
(Kung Fu, Kenpo, Tae Kwon Do) (Tai Chi) (External/Internal)
Sparring: Point Fighting Push Hands Chinese Wrestling
Non-Member Costs: 1 event: $40 + $15 each additional event. Specials: 3 events 60 or 6 events $80
White Lotus Member Costs: 1 event: $30 + $10- each additional event. Specials: 3 events $45 or 6 events $60
$10 discount if registered by April 24, 2021 $5 discount if registered by May 8, 2021
Applications available at WLA schools
No Classes Memorial Weekend
There will be no classes held at Rising Dragon on Saturday May 29 and Monday May 31 in honor of Memorial Weekend. A special thank you to all who have served to protect our country.
Testing
Friday June 25 at 5 p.m. Awards Ceremony 6:30 p.m. Higher rank testing will start earlier usually around 3 p.m.
Reduce Your Class Dues
Save up to $300 a year by making 3, 6 or 12 payments instead of monthly. Yearly payments equals paying for 9 months and getting 3 free months! Also a reminder that payments are due on the 1st of the month. Late fees are accessed after the 5th and 10th of a month that fees are due. Thank you for the support of our school and family!
Upcoming Events
White Lotus Tournament – Saturday May 22 9am–Noon at Rising Dragon Martial Arts 3429 W. Greenfield Ave.
Testing Block 3 – Friday June 25 5 p.m. Awards 6:30
No Classes Memorial Weekend – Saturday May 25 and Monday May 27
Block 3 Focus
Week 1 (May 3-8 ): Basics
Week 2 (May 10 – 15): Forms
Week 3 (May 17 – 22): Forms & Sparring
Week 4 (May 24 -29): Fist Sets
Week 1 (June 1 – 5): Weapons
Week 2 (June 7– 12): Basics & Information
Week 3 (June 14- 19): Forms and Fist Sets
Week 4 (June 21 – 26): Review & Testing
-Sigungs Steve and Melodie Jungmann
May 3, 2021 |
News
|
Comments Off

on May & June 2021 Newsletter