May & June 2022 Newsletter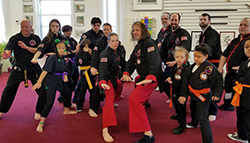 White Lotus Tournament Applications Available Now
We are hosting our annual state White Lotus Association tournament here at our school on May 14, 2022 – this is a perfect time for students to meet students from other schools, compete for fun and trophies, make new friends, test your current skills and, all in all, participate in something unique, exciting and practice being 'warriors with compassion.' See more about the tournament under the April news. The tournament is May 14, 2022. Also make sure your White Lotus Membership is up to date so you get an additional 25% discount off the tournament fee!
This is an open tournament and other schools are welcome too! Categories for completion this year are:
Forms: External Internal Weapons
(Kung Fu, Kenpo, Tae Kwon Do) (Tai Chi) (External/Internal)
Sparring: Point Fighting Push Hands Chinese Wrestling
Non-Member Costs: 1 event: $40 + $15 each additional event. Specials: 3 events 60 or 6 events $80
White Lotus Member Costs: 1 event: $30 + $10- each additional event. Specials: 3 events $45 or 6 events $60
Applications available at WLA schools
No Classes Memorial Weekend
There will be no classes held at Rising Dragon for Memorial Weekend. So no classes Saturday May 28 and Monday May 30, 2022.
Testing Block 3
Friday June 1 at 5 p.m. Awards Ceremony 6:00 p.m. Higher rank testing will start earlier usually around 3 p.m. but check with your teacher for your test invitation and time.
The Dragon Breath
(Beatitude Series Continuing)
"The second Beatitude from Jesus (from his famous Sermon on the Mount found in Matthew chapter 5: 1-11) says, "Blessed are the meek, for they will inherit the earth." This idea of a blessing by being meek is in direct contrast to what the world teaches: 'Happy are those who conquer and control.' Are not the meek those who get trampled on and taken advantage? But I think Jesus is saying that those who are humble will receive better from the world because they are perceived and received better.
People are not threatened by a humble person whose speech and manner are non-confrontational. The meek person is listening, empathetic, and trying to understand. When one person, for example, is angry and yelling, the meek person is strong enough in spirit to listen without responding in anger also – which just leads to people battering back and forth and no one inherits anything but frustration and pain. But if one person responds softly, meekly they can calm the anger of the other person ("A soft answer turns away wrath" Proverbs says). Then the person more likely inherits peace between them, not wrath and continued war.
This is particularly true for Pai Lum martial arts, our system. We are walk humbly, not boasting. We are to have confidence and strength of a quiet and gentle spirit built from the knowledge we can protect ourselves. We don't have to prove it because of any verbal challenge. The proof will come if we really have to defend ourselves – 'then our souls will become warriors.' Meanwhile we can show true strength through meekness and inherit the fruit of such a spirit – the blessing of peace on earth!
Upcoming Events
White Lotus Tournament Saturday May 21 9am – Noon at Rising Dragon Martial Arts 3429 W. Greenfield Ave.
No Classes – Saturday May 28 and Monday May 30 for Memorial Weekend
Testing Block 3 – Friday July 1 at 5 p.m. Awards at 6p.m.
Block 3 Focus
Week 1 (May 2-7): Basics
Week 2 (May 9-14): Forms
Week 3 (May 17-21): Fist Sets
Week 4 (May 24-28): Sparring
Week 1 (May 31 – June 4): Weapons
Week 2 (June 6 – 11): Form & Fist Sets
Week 3 (June 13 – 18): Sparring and Info
Week 4 (June 20 – 25): Bead Tests / Review
Week 5 (June 27 – July 1): Review and Testing
-Sigungs Steve and Melodie Jungmann
May 2, 2022 |
News
|
Comments Off

on May & June 2022 Newsletter