Nov & Dec 2022 Newsletter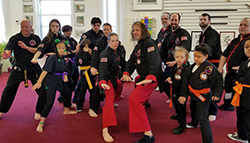 New classes (free) Mondays noon
Rising Dragon is offering an extra kung fu/kenpo class for our expanding adult students from 12 (noon) to 1 p.m. every Monday! Students can also come late to class and/or leave early as needed for work during this lunch time opportunity. Uniforms are also optional. This additional class is free to adults!
No Classes Thanksgiving Weekend
We will be closed Thursday November 24 and Saturday November 26 for Thanksgiving Day Weekend.
Holiday Sales Black Friday (November 27) – December 31st
New Student Special: Free Uniform with any purchase of 3 months of classes or more
35% off: Birdies $15 now only $9
Small School Patches for regular cloth wear: $10 now only $6.50
Rising Dragon Window Decals $10 now only $6.50
Kwando Weapon $250 now only $162.50
25% off: Iron Palm Bags $40 now only $30
Staffs $44 now only $33
Back Patches $40 now only $30
Many of these items would be a great gift for students under the Christmas tree! Or consider buying some classes for a friend or family member to start training and receive a free uniform to give them.
Christmas Break
There are no classes on Saturday December 24. Merry Christ-mas!
Testing
Friday December 30 Block 3 Testing (3 p.m. advanced / 5 p.m. beginners). Awards Ceremony 6:00 p.m
December 20 Block 3 Testing (3 p.m. advanced / 5 p.m. beginners). Awards Ceremony 6:00 p.m
New Year's Eve and Day
There are no classes Saturday December 30. Happy New Years!
2023 New Student Special
Kick off the new year with a new you training at Rising Dragon Martial Arts. This starter special gives you a free uniform ($60 value) with any new signup of 3 months or more! This offer runs from Nov. 25, 2022 to Dec. 30, 2022.
White Lotus Winter Seminars
January 19-21, 2023
Thursday 19th 5:30 Seminar 1 (free)
Friday 20th 5:30 Seminar 1 ($30)
Saturday 21st 9 Seminar 3 (free)
6:00 Seminar 2 (free)
6:30 Seminar 2 ($30)
9:30 Seminar 4 (free)
10:00 Seminar ($30)
Some of the seminars include: Iron Fan Form, Prayer Hand Self Defense, Chi Kung 7, and Standing Tree Meditation
Thursday & Saturday Seminars will be at Rising Dragon Martial Arts (3429 W. Greenfield Ave., Milwaukee, WI 53215)
Friday Seminars will be at Be Martial Arts (11122B N Cedarburg Rd, Mequon, WI 53092)
Special: All 3 paid seminars for only $75
Upcoming Events
Thanksgiving Break No classes Thursday Nov. 24 & Sat Nov 26
Christmas Break (No Classes) Saturday Dec 25
Testing Block 3 Friday Dec 30 at 5 p.m. Awards 6:00
New Year's Eve (No Classes) Saturday Dec 31
WLA Winter Seminars Thurs. Jan 19, Fri Jan 20 & Sat. Jan 21
Block 3 Focus
Week 1 (November 1-5): Basics
Week 2 (November 7-12): Forms
Week 3 (November 14-19): Fist Sets
Week 4 (November 21-26): Sparring
Week 1 (Nov. 28-Dec 3): Weapons
Week 2 (December 5-10): Forms and Info
Week 3 (December 12-17): Fists Sets
Week 4 (December 19-24): Sparring
Week 5 (December 26-31): Review and Testing
Reduce Class Dues
Save up to $300 a year by making 3, 6 or 12 payments instead of monthly. And thank you for the support of our school and family!
October 31, 2022 |
News
|
Comments Off

on Nov & Dec 2022 Newsletter