November & December 2021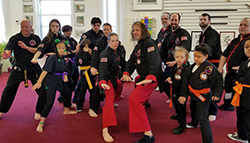 No Classes Thanksgiving Weekend
We will be closed Thursday November 25 and Saturday November 27 for Thanksgiving Day Weekend.
Holiday Sales Black Friday – December 31st
New Student Special: Free Uniform with any purchase of monthly classes!!
50% off: Wood Nunchakus "Nunchuks" $35 to only $17.50
Small School Patches for regular cloth wear: $10 now only $5
Metallic Rising Dragon Bumper Stickers $10 now $5
Kwando Weapon $250 now only $125
25% off: Iron Palm Bags $30 now $23.50
Siang Oil $20 25cc now $15 $10 1 oz now $7.50
Foam Nunchakus "Nunchuks" $29 to only $19.
Crane Stick (Pair) $39 now $29
Monk Spade $199 now only $149
Desk of the Dragon
We often say, "Enjoy the Journey." Or "Stop and Smell the Roses." This is true in martial arts: how great if we enjoy the training along the way, for example, than just getting the new rank. And it is true in life…work won't feel like work if our attitude is positive and we like our jobs. Getting a healthy body can be work at a gym, but if we embrace the feel of our muscles straining perhaps we won't dread the workout; or as we teach our students: "I love push-ups!"
But a thought occurred to me. One of the most wonderful things about almost every journey is the people that are part of it. As Thanksgiving and Christmas approach more family members and friends get together. Enjoy them too – especially the strange and wonderful relatives and people that make life more interesting! They are integral to the journey. "Stop and Smell the People." Or something like that.
Enjoy arriving to your destination (that's easy). Enjoy the journey (sometimes difficult). And enjoy the people on your path (often most challenging). But enjoy.
Christmas Break
There are no classes on Saturday December 25. Merry Christ-mas!
Testing
Thursday December 30 Block 3 Testing (3 p.m. advanced / 5 p.m. beginners). Awards Ceremony 6:00 p.m
December 20 Block 3 Testing (3 p.m. advanced / 5 p.m. beginners). Awards Ceremony 6:00 p.m
New Year's Eve and Day
There are no classes Saturday January 1. Happy New Years!
2020 Student Special
Kick off the new year with a new you training at Rising Dragon Martial Arts. This starter special gives you a free uniform ($60 value) with any new signup! This offer runs from Nov. 25, 2021 to December 30, 2022.
Teacher Seminar Coming
Friday January 14 from 5-9 p.m. All green belts, sihings and sifus wanting to be an instructor and improve their teaching skills should not miss this annual special seminar. Cost is $15 and includes teaching, supplies, and pizza dinner and dessert. Instructor manuals are also available for $40.
Upcoming Events
Thanksgiving Break – No classes Thurs Nov. 25 & Sat Nov 27
Christmas Break – (No Classes) Sat Dec 25
Testing Block 3 – Thurs Dec 30 at 5 p.m. Awards 6:00
New Year's Eve and Day (No Classes) – Sat Jan 1
Teacher Seminar – Fri January 14 from 5-9 pm
Block 1 Focus
Week 1 (November 1-6): Basics
Week 2 (November 8-13): Forms
Week 3 (November 15-20): Fist Sets
Week 4 (November 22-27): Sparring
Week 1 (Nov. 29-Dec 4): Weapons
Week 2 (December 6-11): Forms and Info
Week 3 (December 13-18): Fists Sets
Week 4 (December 20-25): Sparring
Week 5 (December 27-31): Review and Testing
-Sigungs Steve and Melodie Jungmann
November 5, 2021 |
News
|
Comments Off

on November & December 2021