Sept & Oct 2022 Newsletter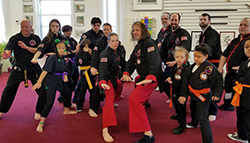 Silver City International Festival Demonstration
Saturday September 10 at 12:15 p.m. Rising Dragon Martial Arts students can perform at Silver City International Festival held on National street between 33rd and 35th (Our booth and performance will be on the end of 33rd and National. We will do a rehearsal that morning at Rising Dragon school at 10 a.m.
This will be similar to the the Mexican Fiesta Demo we just performed (and by the way congratulations and thanks to the over 15 students who participated with forms, self defense, weapons, and breaking of boards! It was fun, funny and fantastic performance)!
New Brochures
We have updated our brochures in both English and Spanish with new text. pricing and pictures and an updated schedule! This includes a special of $10 less per month if you provide us card information for automatic monthly payments in which on the first of every month you will be charged $10 less than current monthly pricing. The caveat is that you must agree to continue payments for 2 more months after indicating you would like to stop classes. So as long as you let us know two months prior to leaving, this should not have any impact on your training goals and receiving all paid classes. As always we appreciate your support in helping our family business serve Milwaukee for over 30 years!
Rising Dragon Spooktacular Party
Monday October 31, 2022 at the Rising Dragon School
Over 25 years of screams of fear, delight and pain (hey, its martial arts!) — Super Scary Fun Games! Terrifying Tales! Martial Arts Themed Costume Awards. And Candy! Candy! Candy! Come dressed in some martial art themed costume (coming as weapon, a zombie warrior, one of the fighting animals, a re-breakable board, etc.) All this takes place during our "abnormal" business hours:
Pee Wee Dragons 4:30
Little Dragons 5:30
Junior Dragon 6:30
Don't be afraid adults…Ok, be afraid.
Testing
Friday October 28th Block 2 Testing (3 p.m. advanced / 5 p.m. beginners). Awards Ceremony 6:00 p.m
Upcoming Events
Silver City Demo Sat Sept 10 at 12:15 p.m. at 33rd & National
Testing Block 2 Friday Oct 28 5 p.m. Awards 6:00
Spooktacular Party Monday Oct 31 (Check times above)
Block 2 Focus
Week 1 (August 29–Sept 3): Basics
Week 2 (Sept 5-10): Forms
Week 3 (Sept 12-17): Fist Sets
Week 4 (Sept 19-24 ): Sparring
Week 5 (Sept 16-30 ): Weapons
Week 1 (October 3-8): Basics and Info
Week 2 (October 10-15): Forms and Fist Sets
Week 3 (October 17-22): Weapons and Sparring
Week 4 (October 24-29): Weapons & Review
Reduce Class Dues
Save up to $300 a year by making 3, 6 or 12 payments instead of monthly. And thank you for the support of our school and family!
September 7, 2022 |
News
|
Comments Off

on Sept & Oct 2022 Newsletter