Sept & Oct 2023 Newsletter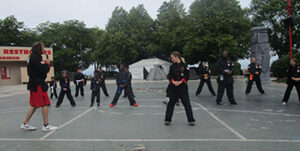 Silver City International Festival Demonstration
Saturday September 9 at 12:15 p.m. Rising Dragon Martial Arts students can perform at Silver City International Festival held on National street between 33rd and 35th (Our booth and performance will be near the intersection of 33rd and National. We will do a rehearsal that morning at Rising Dragon school at 10 a.m. This will be similar to the Mexican Fiesta Demo we just performed with forms, self defense, weapons, but also breaking of boards!
Five Fun Fall Seminars! Sept. 21-23
Thursday 5:30 Chi Kung 8 Brocades (Free) Sihing Theresa
Friday 5:30 Hung 1 Defenses ($25) Sifu Elbert
6:30 Twin Dagger Form ($25) Sigung Steve
Saturday 9:00 Hung Gar Chi Kung (Free) Sihing Greg
10:00 Dagger Defenses ($25) Sigung Melodie
11:00 Black belt testing ends for Sihing Theresa and Sidi Sully – come see there results!!
Join our Rising Dragon Family for awesome extra training. Do all 3 paid seminars for a special of only $50.
Teaching Seminars
Thursdays October 12: 5-8 pm and October 19: 5-8 pm special classes for all adults (learn unique forms: Silent Dragon and White Dragon Claws) from 5-6. Then from 6-8 pm. Fall Teaching Seminars with part 2 of the Instructor Manuals (Class Room Control). Be sure to let Sigung know if you plan to attend!
Testing
Friday October 27th Block 2 Testing (3 p.m. advanced / 5 p.m. beginners). Awards Ceremony 6:00 p.m
Rising Dragon Spooktacular Parties
Saturday October 28 at 10:30 am: special ghost techniques, haunted story and candy Monday October 30, 2023 at the Rising Dragon School.
Over 25 years of screams of fear, delight and pain (hey, its martial arts!) — Super Scary Fun Games! Terrifying Tales! Martial Arts Themed Costume Awards. And Candy! Candy! Candy! Come dressed in some martial art themed costume (coming as weapon, a zombie warrior, one of the fighting animals, a re-breakable board, etc.).
All this takes place during our "abnormal" business hours:
Pee Wee Dragons 4:30
Little Dragons 5:30 Don't be afraid adults…Ok, be afraid.
Junior Dragon 6:30
Reduce Class Dues
Save up to $300 a year by making 3, 6 or 12 payments instead of monthly. Thank you for supporting our school!
Upcoming Events
Silver City Demo Sat Sept 9 at 12:15 p.m. at 33rd & National
Teaching Seminars Thursdays Oct 12 &19 5-8 pm
Testing Block 2 Friday Oct 28 5 p.m. Awards 6:00
Spooktacular Parties Saturday October 28 from 10-11, Monday October 30 (check age times above)
Block 2 Focus
Week 1 (August 29–Sept 3): Basics
Week 2 (Sept 5-10): Forms
Week 3 (Sept 12-17): Fist Sets
Week 4 (Sept 19-24 ): Sparring
Week 5 (Sept 16-30 ): Weapons
Week 1 (October 3-8): Basics and Info
Week 2 (October 10-15): Forms and Fist Sets
Week 3 (October 17-22): Weapons and Sparring
Week 4 (October 24-29): Weapons & Review
September 4, 2023 |
News
|
Comments Off

on Sept & Oct 2023 Newsletter