September 2020 Newsletter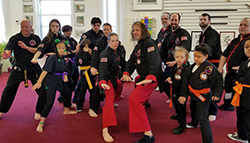 Welcome dragons to Fall training at Rising Dragon Martial Arts!
We will continue to offer both online and in-school class opportunities at our school with a change back to our original schedule prior to the season of Covid. Please note that intermediate and advanced Little Dragons and Junior Dragons will now have additional class time from 6 p.m. – 6:30 p.m. on both Monday and Wednesday.
This class is called "Fire Dragons" as students are to learn bringing their internal chi (energy) into all the new material they are learning demonstrating power, passion and the character of different animals! Please note the new schedule on this page.
As we return to a normal schedule we continue to practice new rules of hygiene for the safety of our students according to state mandate – parents watching are asked to maintain masks, students stand on our floor tagged separation, all touched weapons are sanitized after each person's use, hand sanitizer after any contact and several other similar measures have been instituted (such as waiting for one class to leave before another enters).
We look forward to continuing our journey with you this Fall – with this season of trial and challenge – it has been a blessing to stay together as a martial art family whether online or in person — "my brothers and sisters are my heart and my mind." To the new journey – still together – what lies ahead.
No Classes Labor Day Weekend
We will be closed for Labor Day Weekend (Saturday August 31 & Monday Sept 2) Enjoy your holidays!
Fire Dragon Classes
Join our new class (Ages 8-15) Purple-Grey Belts "Fire Dragons". Many early Pai Lum schools were called Fire Dragon schools because they brought the chi (breath) of the dragon into their training, practice, competition and street defense. These classes not only hone skill of new material but focus a on a curriculum to bring internal power, animal flavor and strategies, and enhanced energy to all their training and material. These intense classes meet every Monday and Wednesday from 6-6:30 p.m.
Online Training Classes
Here's what you need to do for online training:
Clear a training space in front of your computer or device so that you can practice the material. At least 10 square feet should work.
At the time of your class log on to www.bluejeans.com, click on Join Meeting, type in the ID 4143837727. You can also simply go to our home page of www.risingdragonmartialarts.com and there is a join now link on the top of the page which will instantly transport you to training.
Make sure your mic is muted.
Listen and follow the moves that we are teaching. Then practice them as we look at each of you.
Students are welcome to watch and practice the material from other age classes to help review or learn other things. However our focus of correcting will be only on those of the age group we are currently scheduled for. But in this way you can train 60 or even 90 minutes if you wish. You can also join the tai chi or other classes as you wish.
All students are asked to make a payment of $59 or $69 (adults) for this online class training for the month to support our school and family. Those with additional family members who are students are asked to pay an additional $39 for each one. Go to our home page and follow the link to online classes and you can make payment there at www.risingdragonmartialarts.com or just give us a call and we can process credit and debit cards over the phone at 414 383 7727.
Uniforms or proper t-shirts mandatory in school are encouraged but optional online.
Enjoy, exercise, learn and stay connected to your Rising Dragon family! We know in these uncertain times that it is all the more important to stay unified and connected, to find moments of joy and hope and to continue to become 'a warrior with compassion.'
Thanks to all our students who are our extended family – we look forward to seeing you on the online training floor!
Reduce Class Dues
Save up to $300 a year by making 3, 6 or 12 payments instead of monthly. And thank you for the support of our school and family!
Sigungs Steve and Melodie Jungmann
August 30, 2020 |
News
|
Comments Off

on September 2020 Newsletter