September & October 2021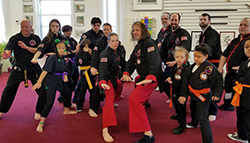 No Classes Labor Day Weekend
We will be closed for Labor Day Weekend (Saturday August 31 & Monday Sept 2) Enjoy your holidays!
International Arts Demonstration
On Saturday September 11th 2021, Rising Dragon Martial Arts students can perform at the Silver City festival held at Arlington Park (Pierce and 35th street). We will have a demo rehearsal that morning from 10-11:30 a.m. and then students can walk (or drive) the 2 blocks over to the park. Our demonstration is near the main stage at 12:15 pm. Come join the festival fun and perform basics, forms, weapons and self-defense for this very popular event in our own neighborhood!
Seminar: Eagle Claw Joint Lock Form Pt 2
Saturday October 9 at 11 a.m. at Rising Dragon school come learn and experience the power of Chi Na – controlling other people by locks of bone and separation of muscle and pressure points on the nerve system (meridians). This is a fun, fantastic and effectual Two – Person form (you do this with a partner). You will learn a dozen different ways to lock and hold people with in-depth teaching on each technique. You do not need to know part 1 in order to learn part 2!
Eagle Claw Form pt 2
Non Members: $35 White Lotus Members: $25
Rising Dragon Spooktacular Party
Wednesday October 27, 2021 at the Rising Dragon School
25 years of screams of fear, delight and pain (hey, its martial arts!) — Super Scary Fun Games! Terrifying Tales! Martial Arts Themed Costume Awards. And Candy! Candy! Candy! Come dressed in some martial art themed costume (coming as weapon, a zombie warrior, one of the fighting animals, a re-breakable board, etc.) All this takes place during our "abnormal" business hours:
Pee Wee Dragons 4:30
Little Dragons 5:30
Junior Dragon 6:30
Don't be afraid adults…Ok, be afraid.
Testing
Friday October 29th Block 2 Testing (3 p.m. advanced / 5 p.m. beginners). Awards Ceremony 6:00 p.m
Upcoming Events
No Classes Sat Sept 4 and Mon Sept 6 for Labor Day
Testing Block 1 – Friday August 27 5 p.m. Awards 6:30
Silver City Demo – Sat Sept 11 at 12:15 p.m at Arlington Park
Eagle Claw Seminar Oct 9 at 11 a.m. at Rising Dragon
Spooktacular Party Wed. Oct 27 (Check times below)
Testing Block 2 Friday Oct 29 5 p.m. Awards 6:00
Block 1 Focus
Week 1 (Aug 30-Sept 4): Basics
Week 2 (Sept 6-11): Forms
Week 3 (Sept 13-18): Sparring
Week 4 (Sept 20-25 ): Fist Sets
Week 5 (Sept 27-Oct 2): Weapons
Week 1 (October 4-9): Basics and Info
Week 2 (October 11-16): Sparring
Week 3 (October 18-23): Forms and Fist Sets
Week 4 (October 25-30): Weapons & Review
Week 5 (Oct 28-Nov 2): Review & Testing
-Sigungs Steve and Melodie Jungmann
September 1, 2021 |
News
|
Comments Off

on September & October 2021